Which part of makeup do you like the most? We guess every girl on this planet would opt for eye makeup. And why not? Eye shadow gives the perfect and defined look to your eyes. Mascara will add the volume to your eyelashes. Eyeliner and kajal will add glamour to the look. Always remember whether you use a highlighter or not, but eye make up should always be on point. You know it is said, "Eyes are the best part of the face."
Even eyeshadow have their own rules that depend on the color of the eye. Do you know which eye color is most common? You may be thinking of black, but stop right there you are wrong here. We are sorry to break your myth related to this. It's brown eye color. It is said that 70 – 90% of the population has a brown eye color. Even it has different shades; some have pure brown, some have blackish brown, hazel brown, and list goes on.
The rule book of eye shadow itself says that brown eyes are the most beautiful eye color in the world of eye colors. When there are some rare eye colors like blue, brown has maintained its position on the top of being favorite. Brown eye color gives a subtle vibe. And when proper eye makeup is done, it can steal the hearts of many. But there are some girls that underestimate the influence of brown eyes on others.
So we are here to give you tips on how to do Eye Makeup for Brown Eyes. In this article, we have covered all the aspects of Brown Eye Makeup and the products that you will need. There are some things that you will need to care about before starting the eye makeup. Forst of all, make sure you use products of high quality to avoid any unnecessary reaction on your skin. And secondly to make sure about the color pigments while using Eyeshadow for Brown Eyes.
Also Read: Eye Makeup Tutorial: A Guide To Enhance The Beauty Of Your Eyes
Now, without wasting any time, let's dive into the article and let your eyes do talking.
Following is the step by step tutorial for eye makeup to be done on brown eyes:-
Step 1: Clean Your Eyes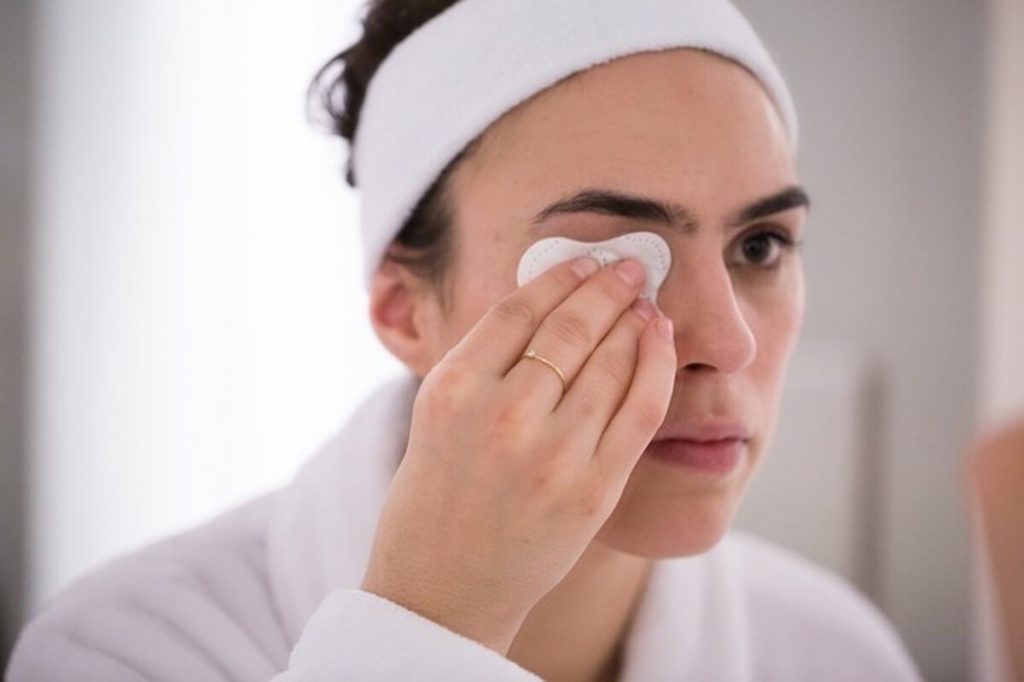 Source: glamour.com
Before starting applying makeup on any part of the face make sure you clean it properly. The skin of eyelids is very sensitive, so avoid using shampoo and soap on it. Clean your eyelids with makeup remover or cleanser. Use soft cotton to clean. After this cleanse your eyes with cold water to remove any bags or redness around the eyes.
Cleaned and bright eyes will highlight the makeup look.
Step 2: Make it Prime Ready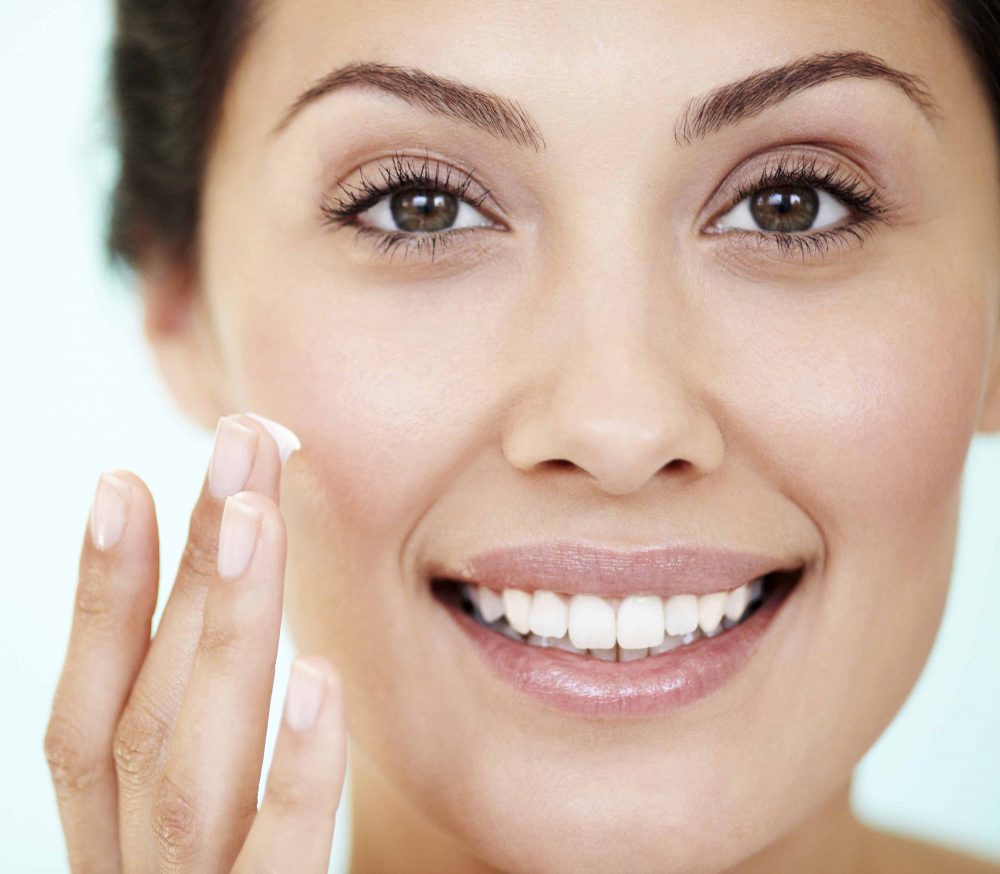 Source: extrabeautycare.com
After cleansing the next step should be priming only. Why we use a primer? To have a smooth base for the makeup! Applying primer to the lids will allow you to have a smooth surface for the makeup. Though you can use any makeup primer, special eye primers are also available. Just in case you want to go for them.
– Apply just dot of the primer then, gently pat it on the eyelids to brows.
Step 3: Conceal Under-eye Patches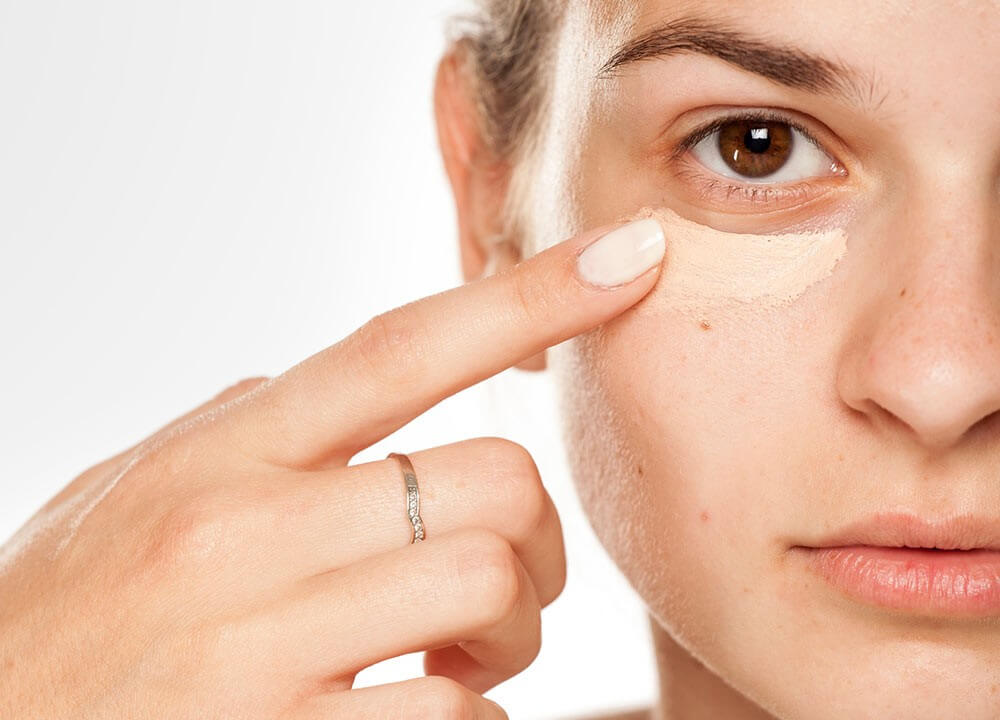 Source: lorealparisusa.com
Use concealer to conceal all the late-night parties you have attended! Use concealer of few shades lighter than your skin color to make your eyes look more waky and elevated.
– Apply concealer using a concealer brush, fingertips, or a cotton swab.
– For a more effective look instead of applying in an arc pattern go for a triangular pattern of applying concealer. It will also look natural.
Step 4: Selecting Eye Shadow Colors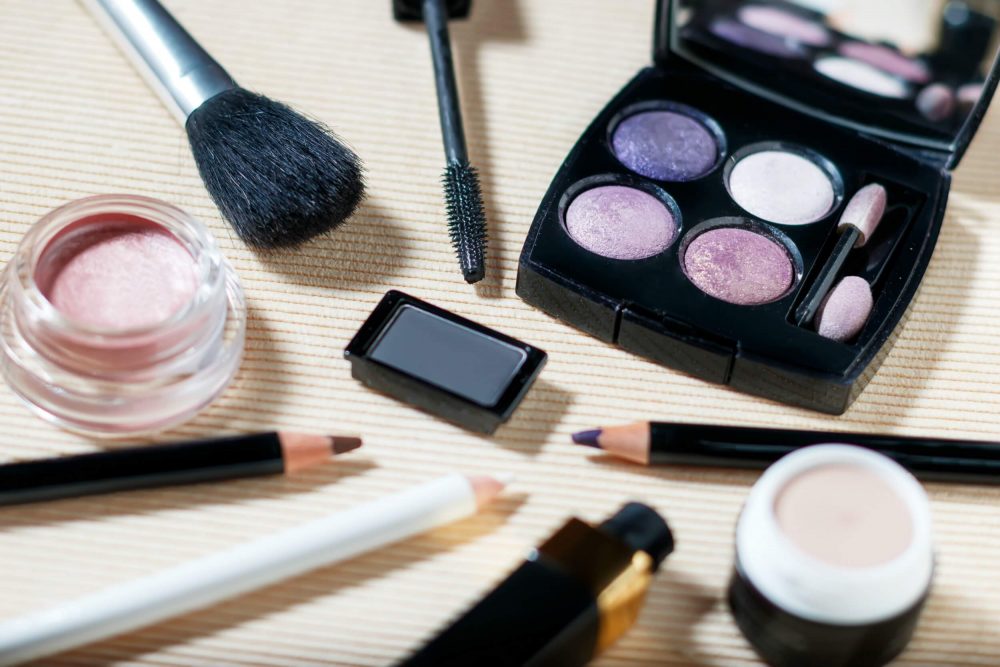 Source: thelist.com
There are many colors that compliment the brown eye color of yours. But don't go overboard with the selection. Stick with the color that will enhance the look of your outfit as well. Brown eye color is a versatile color from matte to metallic every color goes perfect with it.
– Colors like a royal or navy blue or shades of it will go well with deep brown eyes. And shades of purple will go well with hazel brown eyes.
– The metallic gold color will add a sparkle to your eyes.
– You can play with bright and bold colors as well.
Just make sure you choose a softer and lighter base color. A darker and the darkest shade for the crease and outer corners respectively.
Step 5: Apply Base Color On The Entire Eyelid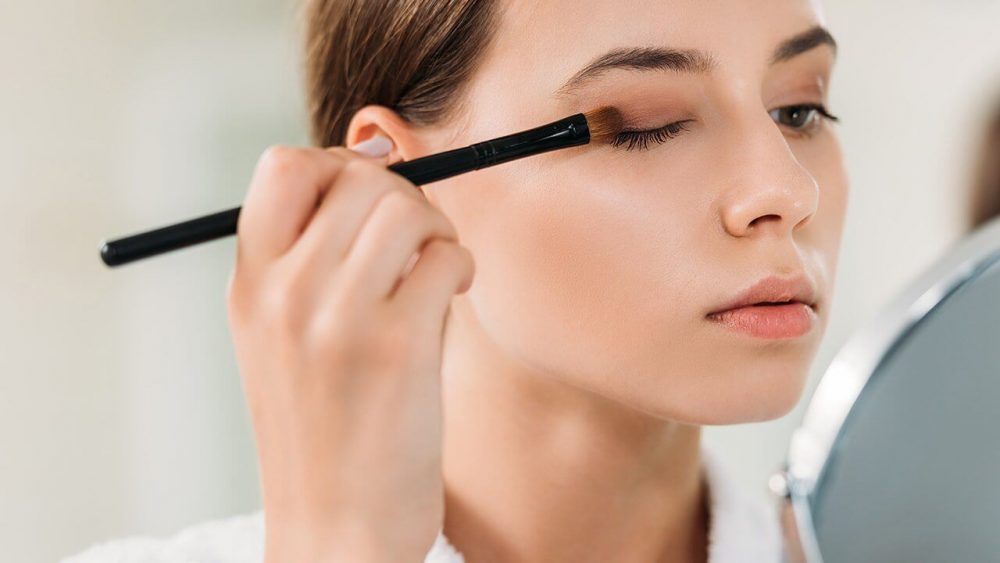 Source: lorealparisusa.com
Use a fluffy brush to apply the base color. As we stated above the base color should be of a lighter shade, irrespective of the shade you have actually chosen for the entire look. Apply base from lash lines to the above eyelid crease. To make it look more subtle and settled down you can also apply a white eyeliner before applying the shadow. The number of times you will need to apply the coat of base color will depend on the pigmentation of the eye shadow color palette.
Step 6: Apply The Darker Shade On The Crease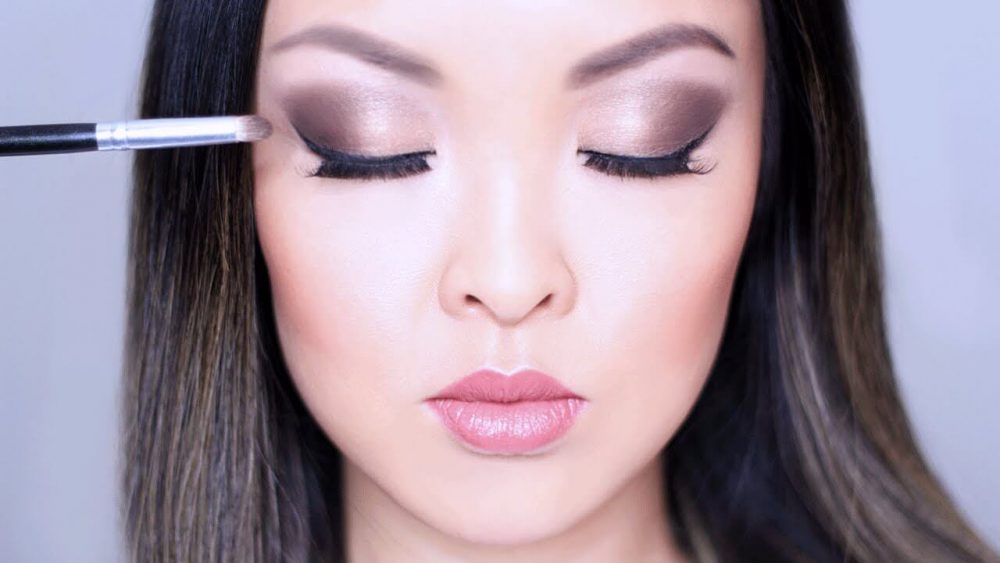 Source: ytimg.com
After you are done applying the base color, move on to defining the crease lines. Use the darker shade (than base color) on the crease lines. Brush the darker shade gently on the crease lines. The movement should be back and forth along with the brow bone from the outer corner to the inner corner of the eye. Applying a darker shade to the crease will help in creating the dimension to highlight the natural hues of your eyes.
Step 7: Apply The Darkest Shade On The Outer Corner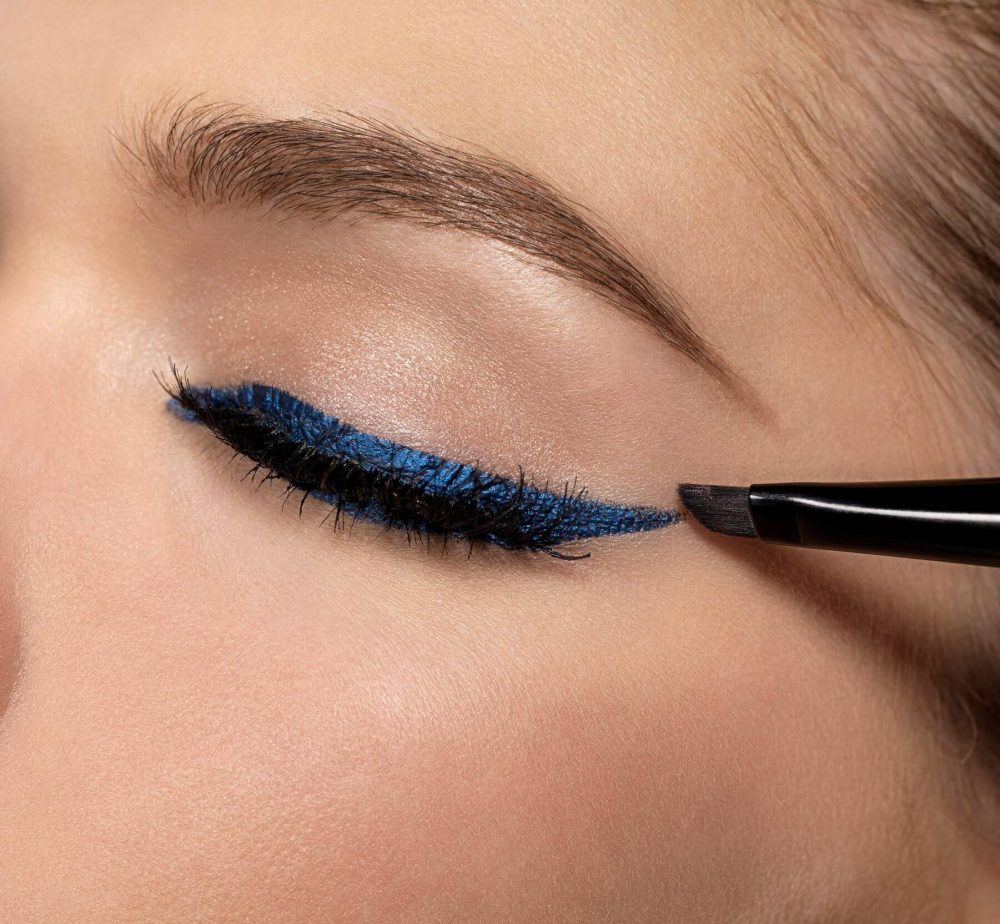 Source: hearstapps.com
If you are going for two shade only then apply the crease color to the outer corner. Or else apply the darkest shade on the outer corner of the eye. Use a different shadow brush or clean the brush before applying. There shouldn't be any borders or lines on the eye shadow. It will look messy.
Apply the shadow on an outer corner in a triangular shape, from top lash line to blending towards the outer brow bones. This technique will make your eye look bigger and intoxicating.
Step 8: Cleaning Up The Fallout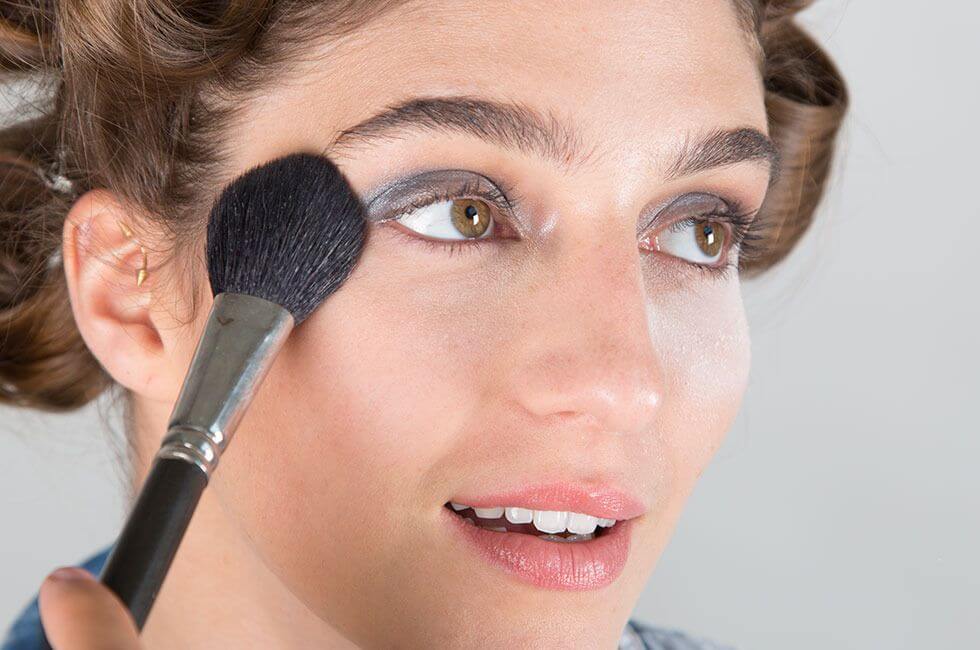 Source: pinimg.com
It is natural that you will have some fallouts under your eye. So brush it off after you are done applying eye shadow. You surely wouldn't want to have a messy eye makeup look, that too after so much of efforts. Pick your Q-tip brush, dip it in the makeup remover and brush off the excess shadow or you can also invest in the eye makeup remover pen. It will make your job easy.
Other than this, you can take precautions too, like sticking a tape under the eye. But before that make sure tape doesn't give an unnecessary problem to your skin. So before sticking it under your eye, try it on the arm skin, then remove it to see if there is any allergic reaction. If the output is positive then go ahead with the process.
Step 9: Apply Eyeliner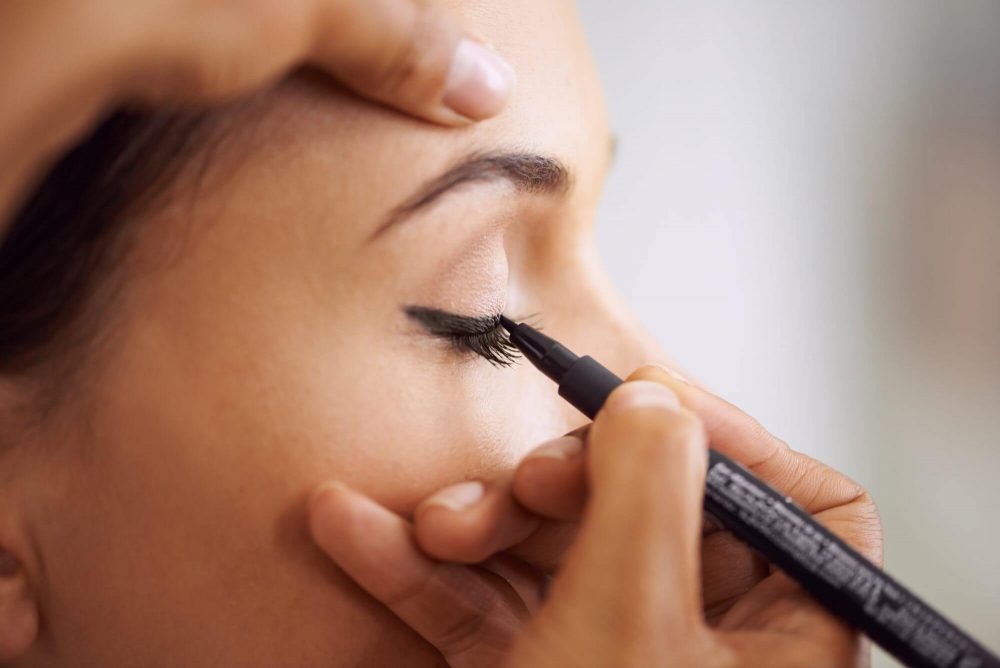 Source: chatelaine.com
After the above step, you are done with the application of eye shadow. It may not look perfect right now, give it time to set on your skin properly. Now its time to do icing on the cake. Apply an eyeliner. You can either go for a black liner or the colored one. Both will look awesome. Wings have taken up the eye makeup game so choose one of the best wings that will give an enticing look to your eye.
Skipping the bottom liner is a great option if you want your eyes to look bigger as it will minimize the shape of your eyes. But if you want to go for the bottom liner then apply it up to 3/4th inch only.
Step 10: Apply Mascara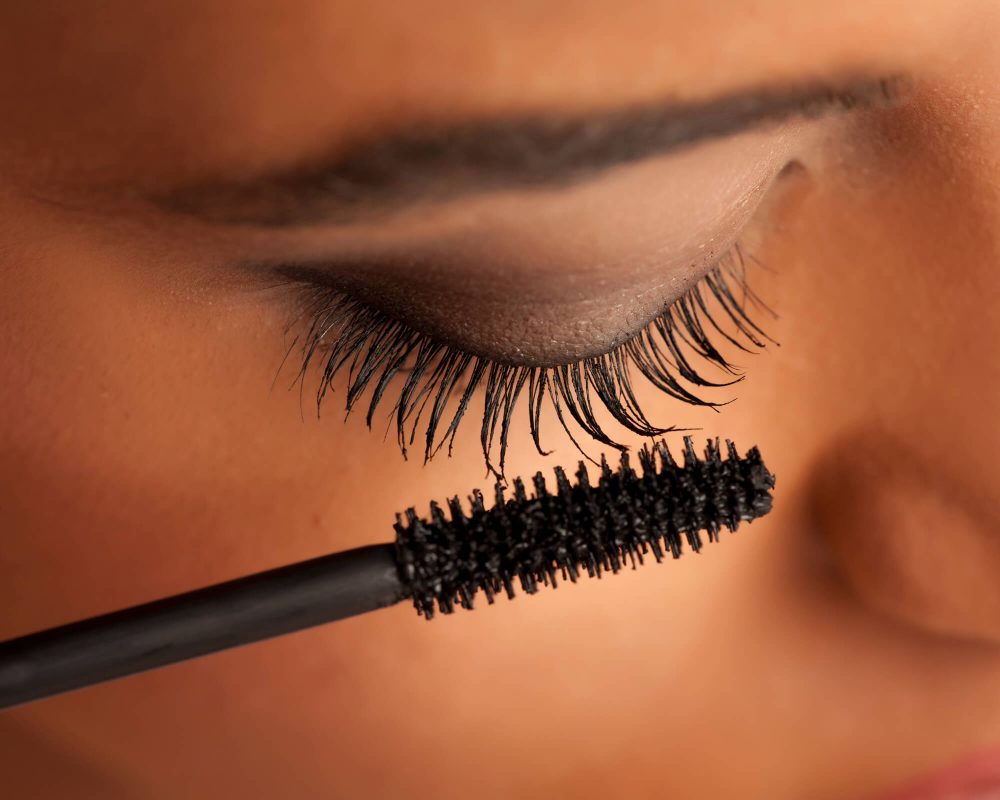 Source: imperfektbeauty.com
Now put a cherry on the cake for the complete glamorous look. Apply mascara to the upper as well as lower eyelashes. If your lashes aren't that voluminous add fake eyelashes there is nothing wrong with that. To amp up your lashes, curl your lashes with the eyelash curler then apply mascara. Make sure you are using waterproof mascara as you won't want panda eyes in the mid of the party.
– While applying the mascara the pattern should be from base to tip. Along with that wiggle the mascara wand back and forth for the clump-free and even application.
– After you apply the coat for the first time let it dry completely then re-apply the mascara for two to three times for a more dramatic look.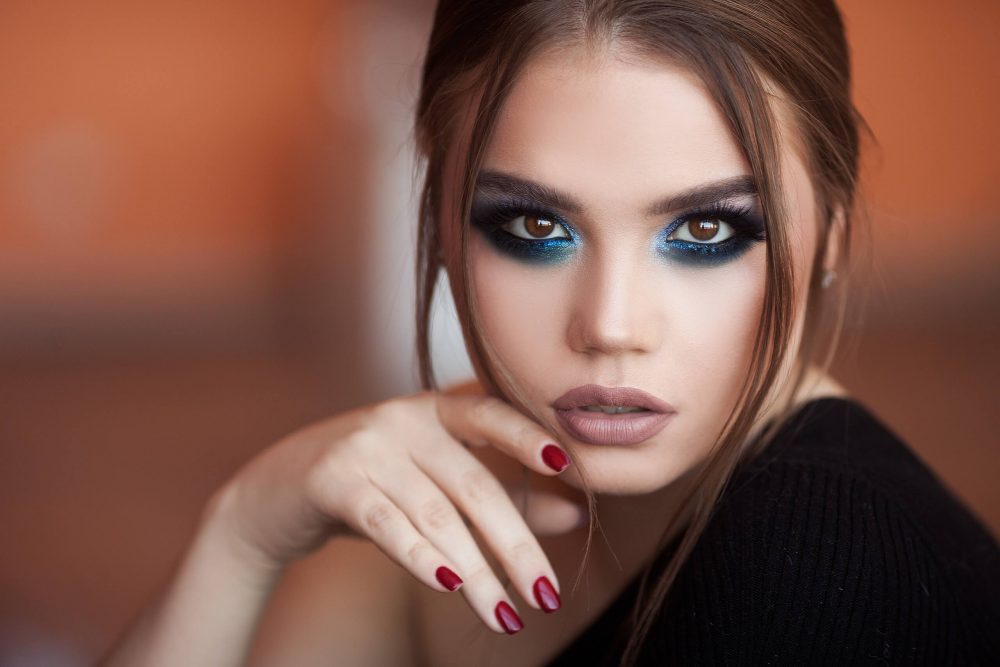 Source: tokkoro.com
Above were the steps to do your eye makeup flawlessly. You may not achieve the perfect look at the first attempt. But don't lose hope and try until you succeed. As it is said, "the one who keeps trying never fails."
Here are some interesting tips on Makeup For Women Over 50.
For more updates on fashion or its styling, stay connected with Fashionterest.