Kurti is loved by the women of every age. It is comfortable, affordable and easy to carry. The best part about the Kurtis is that it is perfect for all occasions. A perfect Kurti will help you to shine. Whenever you are thinking to wear a Kurti, you can't forget its important elements.
You don't know what these elements are? These are jewelry, footwear, accessories, and right bottom. And the right selection will help you to look amazing. Those days are gone when you have to settle for two or three styles of bottoms.
Now, you can find so many bottom types like Aladdin salwar, cigarette pants, long skirts, Palazzo, etc. It will help you to identify between the Indian and Western look. And if you are looking for a casual touch, simply pair it with jeans or jegging. So many options? We understand. We have come out with 7 bottom wear that is the best out of rest:
Also Read: 20 Latest Neck Patterns For A Woman's Dress
Leggings
Source: google-image
Ladies Leggings are the bottom wear that can never go out of fashion. It is stylish and comfortable. And if you are thinking that we are talking about old styles of Leggings, then you are wrong. There are so many options including printed leggings, leggings with the sheerness and different colors.
Features:
The fabric of the leggings plays a very important role in defining comfort, so go for the simplicity and style

Don't go for the tight Kurtis with leggings as it will ruin your overall look.

If you are fat, leggings will be perfect for you.
Palazzo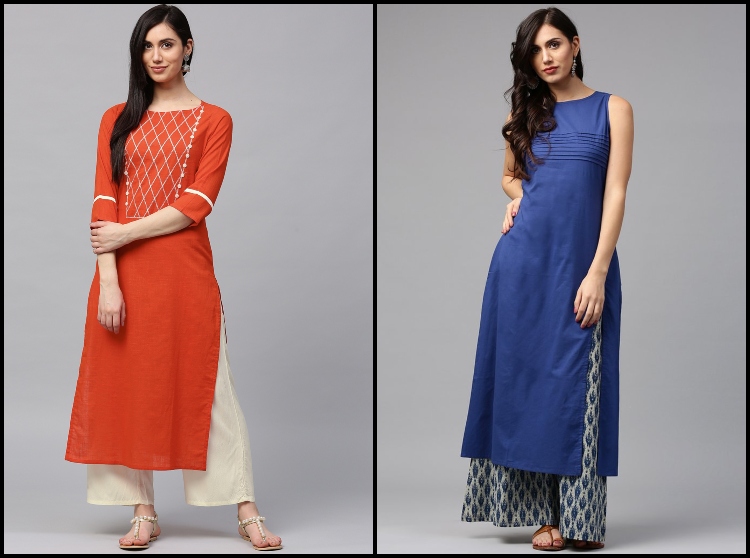 Source: google-image
One of the most graceful and preferred bottom wear is Palazzo. It looks very stylish and adds a western touch to your Kurti. It looks like these Pakistani bottoms have revolved the Indian bottom wear industry.
Features:
You can choose palazzo with the prints for Classic look or choose a transparent palazzo for a bold look.

All kind of Kurtis looks best with it.

Always choose the matching palazzo for your Kurti.
Cigarette Pants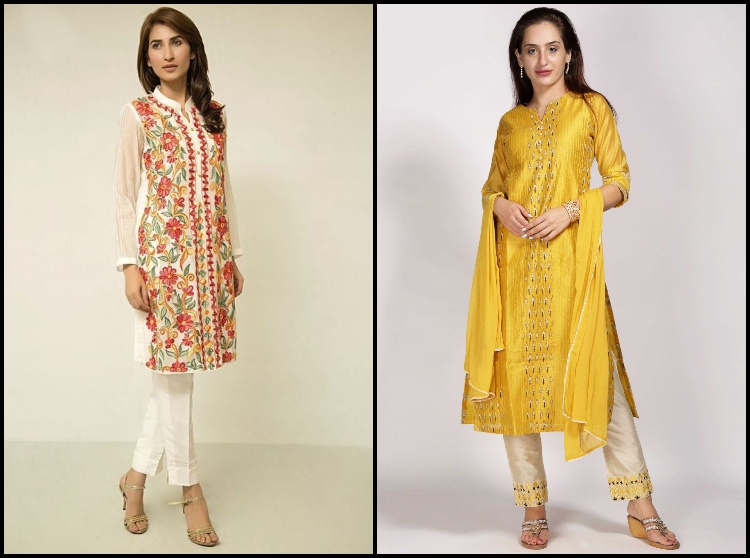 Source: google-image
Cigarette Pants is an Indian version of Jean's. It looks quite like a Churidar but has no Chudis. Also, it's not that long and finishes up at the Ankle. It usually comes with amazing prints. You will admire its comfort and lightweight.
Features:
For a modern touch, pair your cigarette pants with flared Kurti or tail cut Kurti.

It can give you a perfect professional or party look, depending on the style.

You can choose the bottom work according to your requirements.
Aladdin Salwar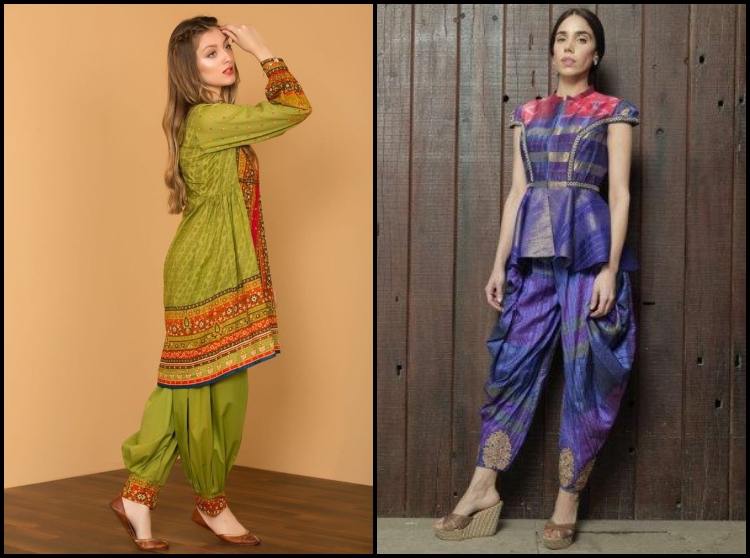 Source: google-image
Aladdin Salwar is something that you may have seen in the movie Aladdin. It's new for India but foreigners love to wear it. You will find two types of Aladdin Salwars, one is very loose and has big cuffs while the other is wider between the legs (harem pants).
Features:
Fitted Kurtis with side slit looks amazing with Aladdin Salwars.

For the flowy look, go for cotton fabric and for a little fitted look, go for viscose or lycra.

It will give you a perfect western and traditional vibes. You can also carry it to casual parties.
Long Skirts
Source: google-image
Long skirts are loved by young girls. It is flowy and looks amazing with the Kurtis. You will find it in different patterns and fabrics, from which you can choose according to your preference and occasion. You will admire its gracefulness.
Features:
Long skirts are flowy so it goes well with the jacket-like Kurtis and A-line short Kurtis.

You can wear a dupatta or scarf with it, which will help you to look more ethnic.

Avoid Long Kurtis and go for short hip-length Kurtis with your Long skirt.
Patiala Salwar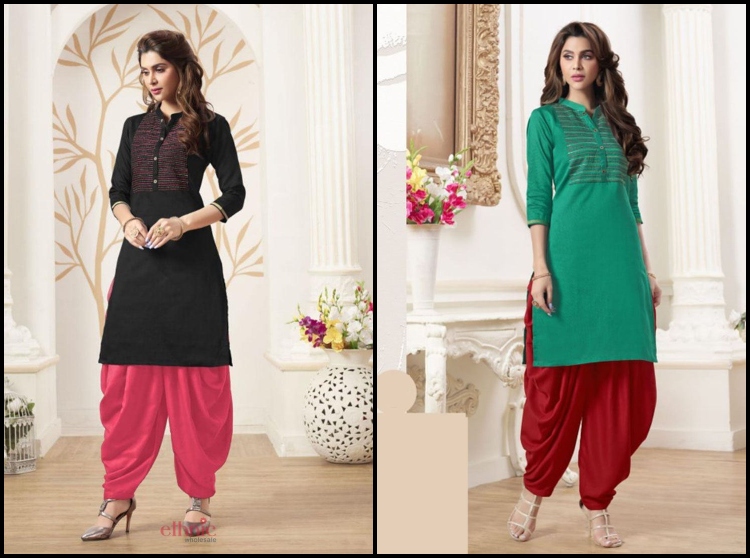 Source: google-image
Patiala salwar has been originated from Punjab. It has so many pleats and feels comfortable on the skin. It is loose and breathable that's why it is perfect for the summer season. Nowadays, these are found in many prints, patterns, and fabrics, which helps you to play with the style.
Features:
Patiala Salwars are versatile and look great at any occasion.

It is generally made up of cotton and chiffon, which are soft and skin-friendly in nature.

It looks the best with ¾ sleeves Kurtis
Churidar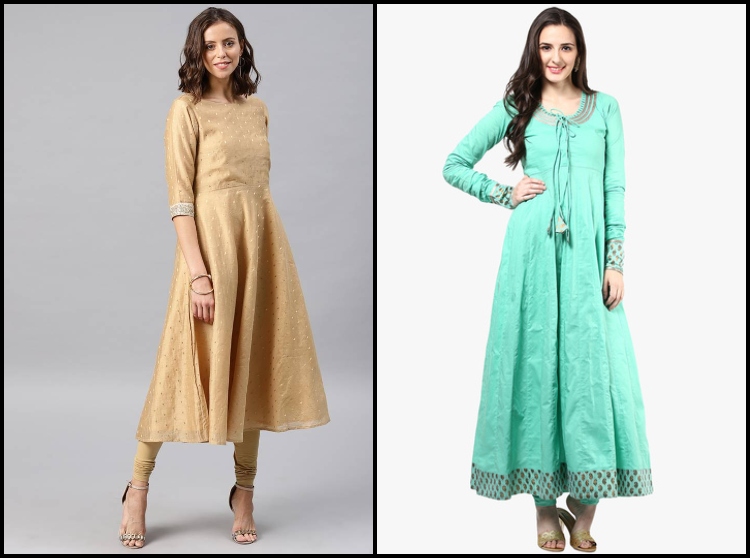 Source: google-image
In contrast with leggings, Churidars comes with so many pleats around the ankle. It has its special place in the bottom collection and women still love to wear it with their Kurtis. It is looser than leggings and that's the reason why adults choose it.
Features:
Churidars looks the best with long Kurtis and Anarkali.

Ladies leggings are usually fitted, so you can choose Churidars for skinny legs.

For a professional look, combine your full sleeved Kurti with Churidar.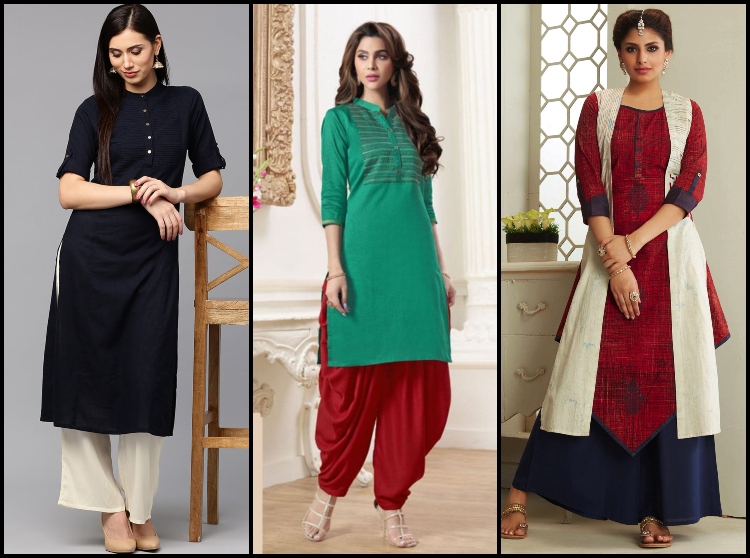 Source: google-image
Although there are many more bottom designs, these 7 are ruling the world of Bottom Wears. You can choose your favorite piece and give an effective look for your Kurti.