Jewelry is the best friend of every woman. Whatever you wear western, traditional or semi-traditional, one thing is common between all the outfits. And that is jewelry. Without jewelry, the outfit seems to be incomplete. Like outfit selection, jewelry selection is also tough. So many options are available to select from earrings to neckpiece. Every piece of jewelry has thousands of options available.
Along with that, there is another option whether you want to go for gold, silver, rose gold, platinum, or white gold. But there is a common thing that women love and that are diamonds. No girl will ever refuse to have a diamond.
Now when we talk about diamonds, it also has alternatives. There are many shapes and colors in diamonds. A real diamond is colorless and is the most expensive. Other than this, there are tinted diamonds as well. Those diamonds are tinted with yellow or brown color.
This was what natural diamonds look like. But nowadays with the public demand, these diamonds come in pigmented colors too. Of which black diamond has reached the heights of favoritism this year. People are going crazy after the Black Diamond Jewelry.
But the problem is how will you know if the black diamond is genuine or not. Importantly, before you buy anything or any kind of jewelry, you must know about its history and features. So we are here to let you know about the black diamonds. In addition to that, we have mentioned some of the best Black Diamond Engagement Rings so that you can propose your partner with the best you have and make your love feel like on the seventh cloud.
Also Read: Black Diamond Rings: Unique Gem For Your Unique Day
Firstly they can be either found naturally or is produced by giving heat treatment to colorless diamonds. Naturally created black diamonds are known as Carbonados. They have seen only in some places like Brazil, Venezuela, and the Central African Republic. The availability of Black Engagement Rings and wedding bands are rare as carbonados have color variations from light gray to jade black. Plus finding them in larger sizes is also tricky as they are mostly found in smaller sizes.
No one knows how natural black diamonds, i.e., Carbonados, came into existence. But some theories say a meteorite impact or space residue from exploding star resulted in the formation of carbonados. Another is that they are formed within the earth due to extreme pressure conditions.
As carbonados are rare to find, most black diamond engagement rings and wedding bands are formed either by irradiating or giving heat treatment to the colorless diamonds. Irradiated black diamonds are deep black in color with the shine of dark green color while heated black diamonds have a lighter shade of gray color.
We have mentioned some of the best black diamond engagement rings for you to buy for the worth remembering proposal. Let's have a look at the following products:-
Infinity Engagement Ring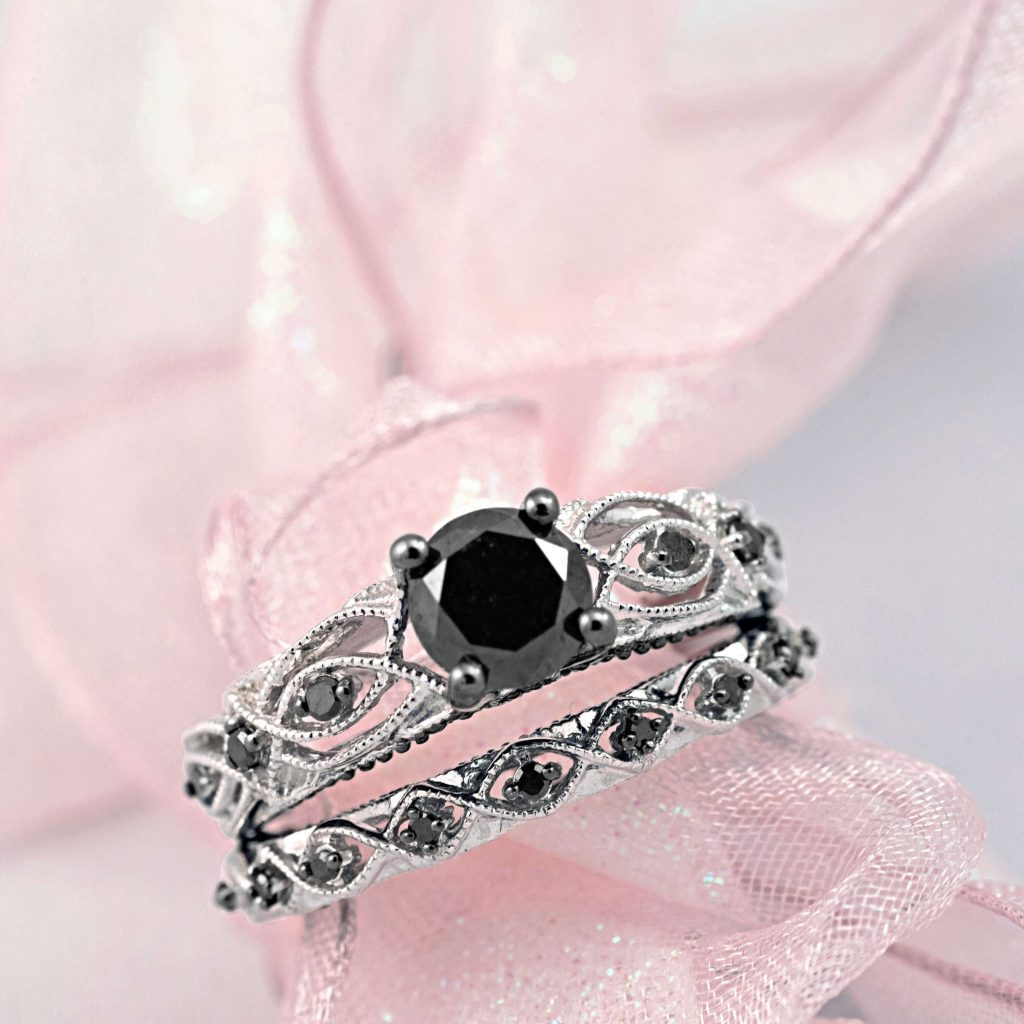 Source: ostkcdn.com
This infinity engagement ring by Miadora is perfect for your special woman. The white gold enhances the look of black diamonds studded. The white gold karat is 10k, and the diamond weighs from 1 to 1.5 carats.
Rose Gold Engagement Ring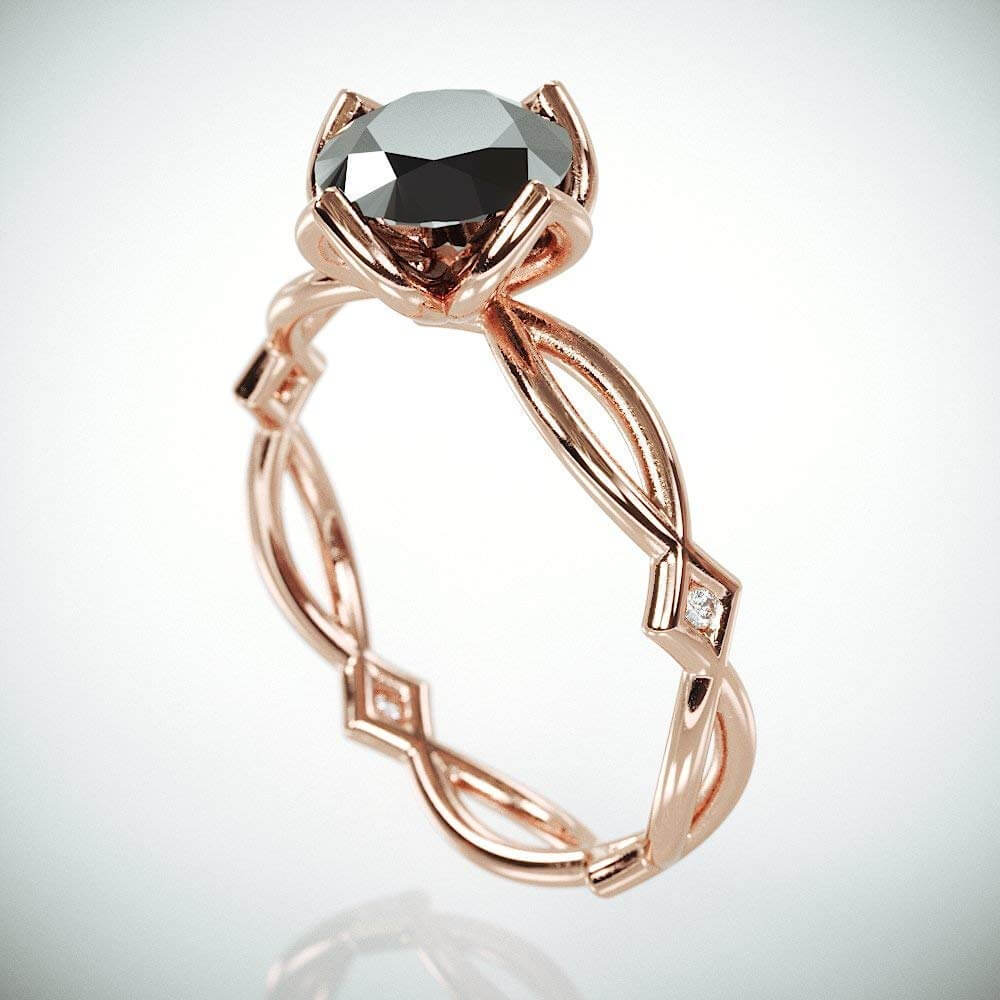 Source: amazon.com
The rose gold ring by Adora is a personalized handmade ring with a black diamond as a centerpiece. And to support the charm of the ring, there are four diamonds placed as an accent very neatly and tidily. You can get this ring also in gold or white gold color.
Princess-Cut Diamond Ring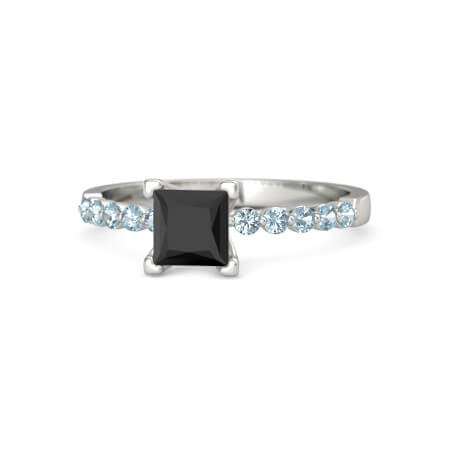 Source: rldcdn.com
The princess cut diamond ring by Gemvara is what you will need to buy for your queen. The black diamond at center with the aquamarine accent stones and platinum ring band gives a sleek and modern look to the ring.
Men's Wedding Ring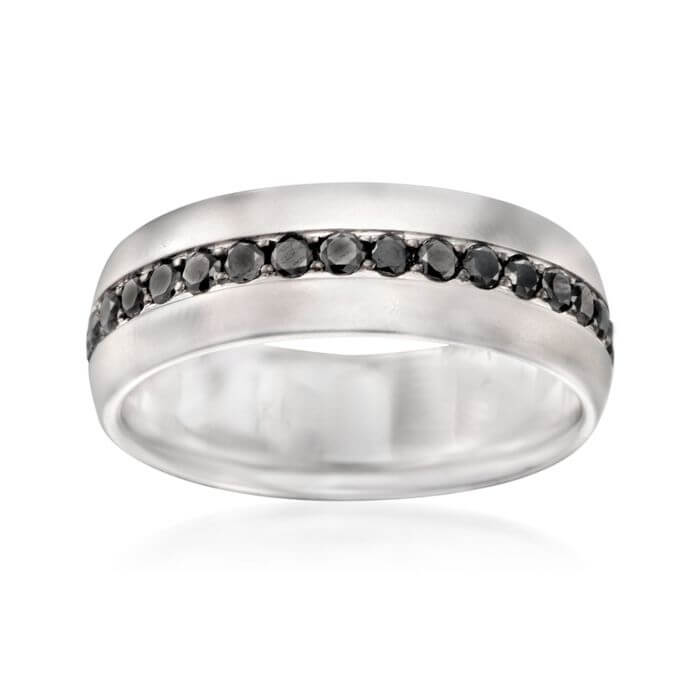 Source: ross-simons.com
A men's wedding ring by Henri Daussi has the perfect touch of masculinity and romance both. It is a 7mm ring with a row of black diamonds at the center with a satin-finished band of 14k white gold.
Swirl Ring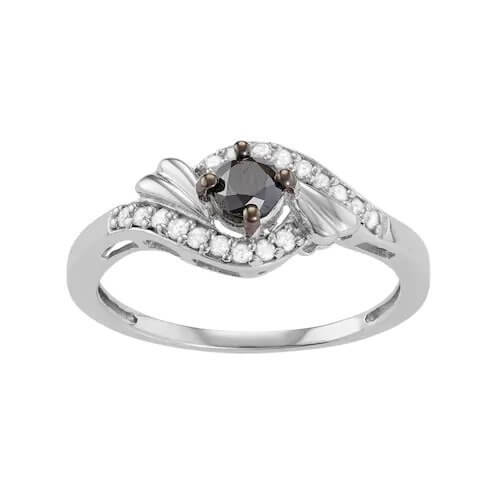 Source: kohlsimg.com
A Kohl's ring with the round-cut black diamond at the center and white diamond swirling around the centerpiece gives it an intense look and a perfect of love. The ring is made up of sterling silver of ½ carat.
Black Diamond Ring with Ruby Accent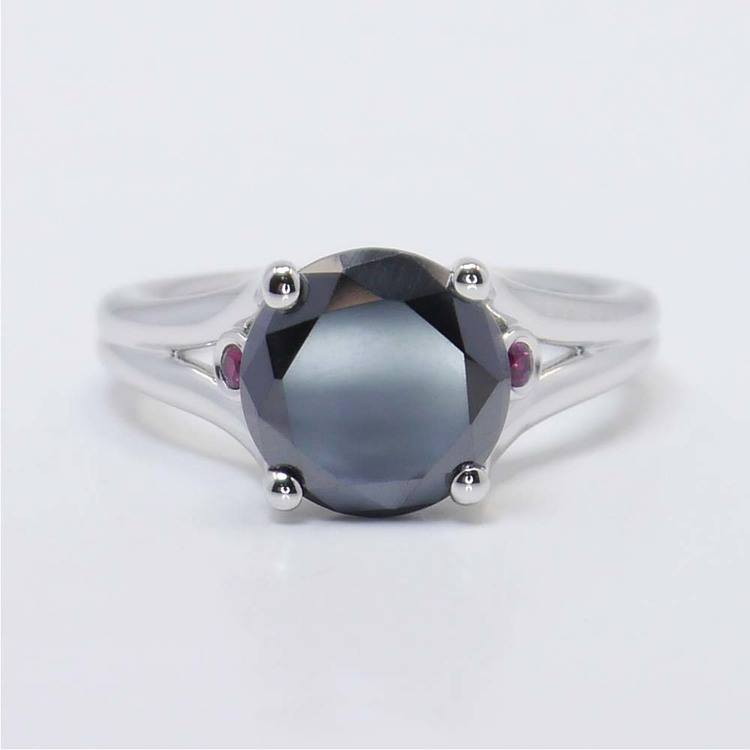 Source: brilliance.com
A brilliance's Black Diamond Ring with a ruby accent is something that every girl would adore. It is a natural black diamond of three carats. The ruby accent added to the ring is of dark medium red color, and the band is of white gold.
Source: google-image
Here are some of the Best Engagement Rings 2019 for you.
These are the six black diamond rings that we found beautiful. We hope this article was helpful to you. For more ideas on fashion styling or jewelry selection, visit us at Fashionterest.