Skin needs care! Be it men's or women's.
Someone said it right, "Invest in your skin. It is going to represent you for a very long time." Having a smooth and healthy skin will keep you away from irritation and unnecessary dermatologist visits.
After liquid soaps have stepped on stage, people forget about the bar soaps. But there are still some men who include bar soaps in their grooming kit. And we would like to tell them, "Don't hesitate, you are using the best skincare product but is it also the best bar soap for men?"
Yup, you read it right. There were times when there were no specific products for the men grooming. And many of the men used feminine products only. Can you recollect this situation? Fortunately, we are in the 21st century, and here you will find a wide range of men grooming products from men's bar soap to shampoo for hair.
But still, are you using the best one? Every time this question arises, doubt is planted as a seed in your mind, which will grow with the time. Whenever the term 'best' is used, it is related to the whole information on the product.
Here in this blog, you will find distinctive information on how to buy the best soap for men and a few suggestions (with detailed information and a review on it).
What are the things to consider while buying a bar soap for men?
1. Consider Skin Type
Soap directly affects the skin, so it's better to first know your skin type and then move towards the purchasing decision. The following is the categorization of skin that men have:
– Dry Skin
When selecting the soap for dry skin, check for the natural oils or ingredients that provide high moisturization to the skin. And avoid high chemical content or even medium, it might dry out the skin more further, resulting in irritation and itchiness.
– Oily Skin
Normally people with oily skin think of buying the opposite one from dry skin. Stop looking for that – it will damage your skin or would react totally opposite, your skin will produce more oil in protecting itself. Go for the products that are natural and compatible in providing less moisture.
– Combination Skin
This is the toughest skin to manage, and most of the men don't have this skin type. But if you are that 1 among 100 with this skin type, you will have to try out both natural and organic soaps and see which goes better. If still in doubt, you can go with the soap containing AHA (Alpha-Hydroxy Acid).
– Sensitive Skin
Taking care of sensitive skin is not hard. But it is case sensitive. You can't try around every soap available in the market. First thing first, soap with natural ingredients are the best for your skin type. But it shouldn't have many ingredients as well.
Not every natural product is suitable. If there is a soap that is working well with your skin type, then don't change the product. And if you still need to change it, go for the soaps that are manufactured especially for the sensitive skin.
– Normal Skin
There is no such thing as 'normal skin,' but still, if you don't find any of the above symptoms in the skin, then, my friend, by god's grace, you are blessed with eternal skin.
2. Look for the Ingredients
A small soap bar has an abundance of ingredients. It is not necessary that each of them is healthy for your skin. So look for the components that are helpful to your skin such as AHA or BHA.
Look for the natural carriers and essential oils. Natural carriers will give your skin nourishment and moisture while the essential oils are added mostly for the scent. While selecting a look at the label, there shouldn't be too much essential oil added it could cause irritation to your skin.
Natural Carrier Oils: Jojoba oil, Almond oil, Argan oil, Coconut oil, Avocado oil, etc.
Essential Oils: Cedarwood, Sandalwood, Tea tree, Clove, Lemongrass, etc.
3. Go for the one with Glycerin
Glycerin is a common ingredient in the making of soap and is good too. It has humectant properties that give your skin a healthy feel and look. Men with dry skin should always look for the glycerin in the soap.
4. Study the Production Process
There are a variety of soaps produced for different skin types and intent. They can be classified in the following:
– Mass Produced
Any soap produced in a bulk or heavy quantity lacks premium and natural ingredients for the men grooming. But it does it work well at cleaning. This type of soaps often has extra preservatives like paraben.
– Naturally made
Soaps made in small-batch or claim itself as a clean ingredient or natural label are naturally made soaps. These soaps have a proper amount of essential oils and natural carriers that will keep your skin nourished and moisturized. They are costly as compared to the ones produced in a mass.
– Premium Soap
The mixture of the above two processes is mentioned under the premium soap category. The soaps designed using natural and essential carriers in accordance and are widely available are premium soaps. And this is what men are looking for! They provide enough nourishment and moisturization to the men's skin.
5. Keep in mind its usage
There is a soap designed for each and every purpose. The facial skin is more delicate than the rest of your body. So it is obvious that soaps for them are designed accordingly. Never use a body bar soap on the face or vice-versa. The outcome can be harsh.
The type of soap will be mentioned on the label and if it isn't, consider it as a hand soap. Types of soaps include:
Body soap
Face soap
Beard soap
Hand soap
All-in-one soap
There are even shampoo bar soaps available.
This was all you need to consider before buying a men's bar soap. Till now you would have defined what is your skin type and the purpose of use. Now let's go through the few of the best products that will help you in nourishing the skin.
Best Bar Soap for Men
1. Baxter of California Men's Exfoliating Body Bar Soap
The bar soap from Baxter of California has exfoliating agents shedding the dead skin, dirt and debris. The natural ingredient used lets a lease to healthy skin and is best for the men with cracked, tough, and dry skin. For the subtle yet decent masculine fragrance, it has oakmoss and cedarwood added in it. It is comparatively economical and lasts long.
Weight of Soap
7oz.
Type of soap (Making Process)
Premium
Suitable for Skin Type
Dry Skin
Ingredients

Natural:- Jojoba Meal and Crushed Olive
Essential Oils:- Oakmoss and Cedarwood

Glycerin
Yes
Type of Soap (Usage)
Body Soap
2. Dr. Squatch Cedar Citrus Soap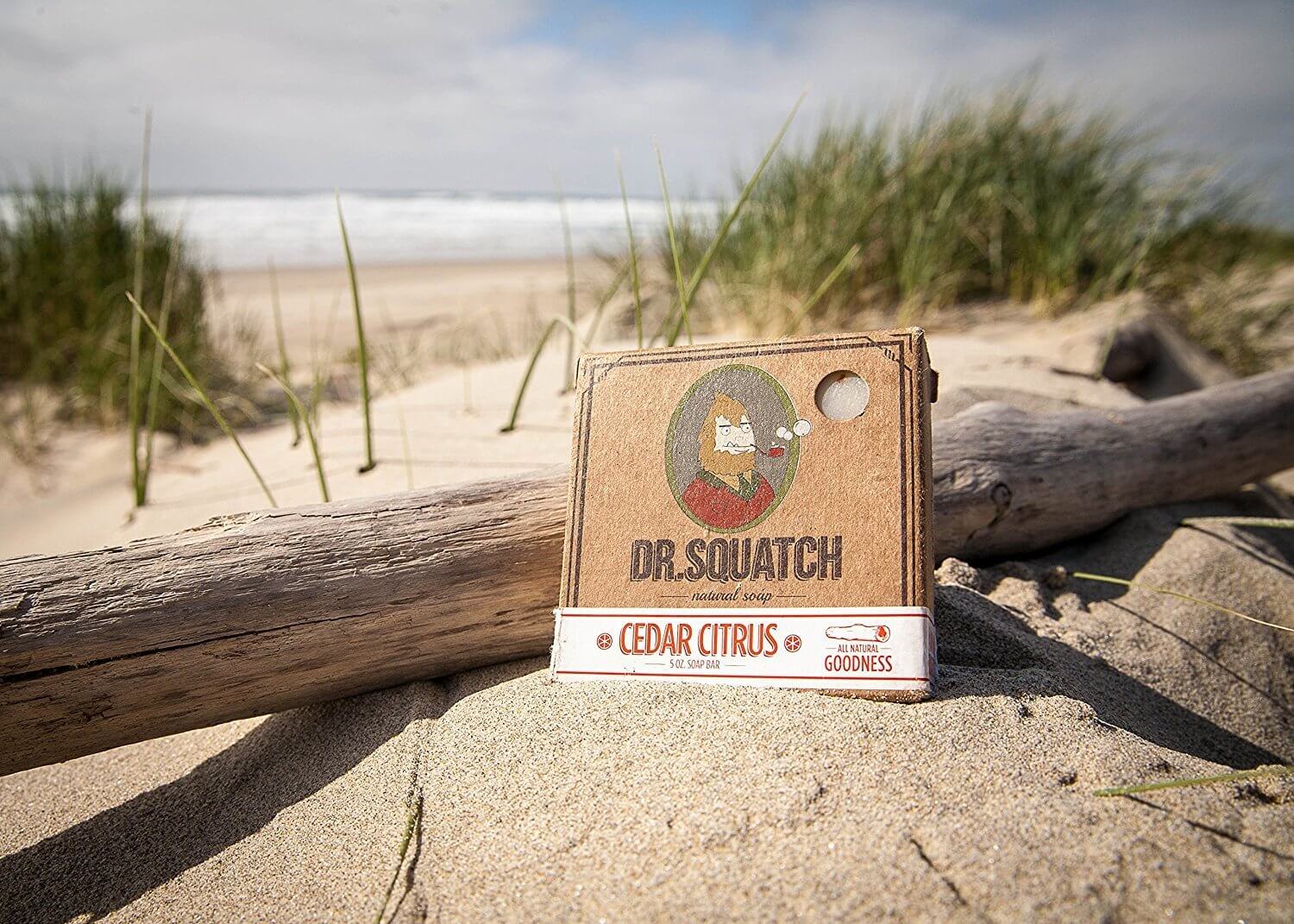 Dr. Squatch's soaps are famous for its natural components and are made with a cold process in small batches. The single motto of the brand is to provide a chemical-free skincare product. The most attractive point – it is designed keeping in mind the men who spend most of the time in the wilderness.
Weight of Soap
5oz.
Type of soap (Making Process)
Premium
Suitable for Skin Type
Sensitive Skin
Ingredients
Natural:- Olive, Coconut, Hemp, and Soybean oil with Shea butter and Peppermint leaves
Essential Oils:- Cedarwood, Orange, and Rosemary
Glycerin
Yes
Type of Soap (Usage)
All-in-one Soap
3. Dead Sea Mud Soap Bar
The activated charcoal soap is good for the dry skin as well as for the people suffering from acne, eczema, and psoriasis. It also has anti-aging and skin tightening elements that will keep your skin look and feel healthy. It's only negative point is the sleek body.
Weight of Soap
5oz.
Type of soap (Making Process)
Premium
Suitable for Skin Type
Dry Skin
Ingredients
Natural:- Castor Bean Oil, Sunflower Oil, and Palm Oil
Essential Oils:- Peppermint and Lemongrass with hints of Eucalyptus
Glycerin
no
Type of Soap (Usage)
All-in-one Soap
4. Duke Cannon Men's Bar Soap
The bar soap for men is specifically designed, acknowledging the manly presence—one of the heaviest and thickest bars on the list with the perfect grip and sharp edges. The to-the-point grip saves you from breaking the toe. Every product is tried first by the on-duty naval officer. And with each purchase contribution is made towards them.
| | |
| --- | --- |
| Weight of Soap | 100z. |
| Type of soap (Making Process) | Mass Production |
| Suitable for Skin Type | Dry Skin |
| Ingredients | Tallow Based, Steel Cut Oats |
| Glycerin | Yes |
| Type of Soap (Usage) | Body Soap |
5. Dove Men + Care Body & Face Bar
Dove men bar soap is recommended by dermatologists. It deep cleans the skin through exfoliation with the help of purifying grains. It even works best for facial skin and can replace the cleanser as well. As it has moisturizing cream as its basic component it strengthens the skin without letting you feel the tightness and awful dryness.
| | |
| --- | --- |
| Weight of Soap | 4oz |
| Type of soap (Making Process) | Mass Production |
| Suitable for Skin Type | All type of skin |
| Ingredients | ¼ Moisturizing Cream |
| Glycerin | Yes |
| Type of Soap (Usage) | Face and Body Soap |
6. Jack Black Scrubbing Soap
The scrubbing soap with a plethora of benefits will cleanse, moisturize, and even exfoliate the skin. It is a big bar so you won't have to hurry to get the new one. It has the freshening and delighting scent that will attract the women magically. The key-catching ingredient is lava rock.
Weight of Soap
6oz.
Type of soap (Making Process)
Premium
Suitable for Skin Type
All type of skin
Ingredients
Natural:- Lava Rock, Shea butter and Murumuru seed butter
Essential Oils:- Natural Blue Lotus and Ginkgo Biloba
Glycerin
Yes
Type of Soap (Usage)
Body Soap
7. Marlowe No. 102
Marlowe's premium quality soap has all the elements that make the skin look and feel healthy. And it says no to all the ingredients that might affect the skin like parabens and phthalate. It has vital antioxidants and vitamins, which keeps the skin cells youthful and intact for a longer time. The combination of natural ingredients helps in achieving the smooth, nourished, and revitalized skin.
Weight of Soap
7oz
Type of soap (Making Process)
Premium
Suitable for Skin Type
Dry Skin
Ingredients
Natural:- Green tea, Willow bark, Deep-sea algae, and Passionflower fruit.
Essential Oils:- Agarwood, Sandalwood, and Musk
Glycerin
Yes
Type of Soap (Usage)
Face and Body Soap
8. Mistral Men's Royal Cypress Bar Soap
The Mistral is also one of the best bar soap for men on the list. With its classic masculine smell and ingredients that will cleanse and protect the skin from any harsh situation, it wins over the hearts of many. It is free from alcohol, parabens, phthalates, animal fats, and coloring agents, which makes it 100% natural and 100% vegan.
Weight of Soap
8.8oz
Type of soap (Making Process)
Premium
Suitable for Skin Type
All type of skin
Ingredients
Natural:- Shea Butter, White Coffee, and Ginseng Powder
Essential Oils:- Pumpkin Oil, Sandalwood, and Eucalyptus
Glycerin
Yes
Type of Soap (Usage)
Body Soap
Have a Masculine and Fragrantica Bathe:
These were the soaps to have for the best showering time. Remember, the skin types are different in both men and women and hence the soap to cleanse and maintain them. Men's skin is on an average 20% thicker than the women's skin and this is the reason why men need different skincare regimes. From cleaning the face to isolated parts, specified men skincare products are there in the market for healthy and nourishing skin.
Continue reading:-