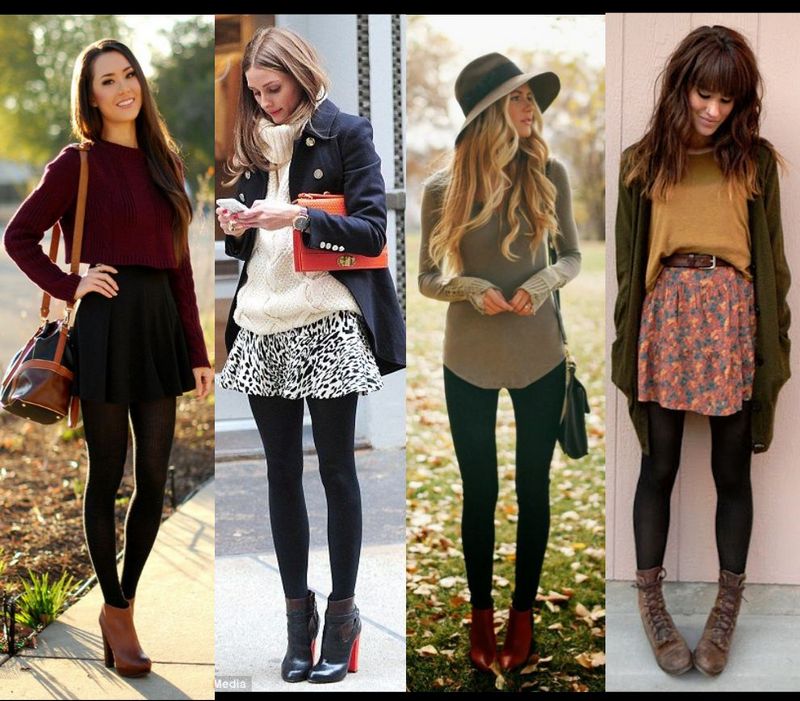 We are already living in 2019 and now it is the time to get your wardrobe set for the entire year and you would be amazed to know that autumn fashion trends are out now so you have enough time to collect things and get yourself ready for the month. If you are someone who always wants to stay in trend then you may be searching for the latest trends all the time and also you would be aware of the fact that different seasons have Different Fashion Trends and just like that autumn also has its unique style as well as clothing collection that you need to check out for sure. If you are wondering about the top Autumn Outfit styles of the year 2019 then here are some of the top styles listed below that you can check and also consider getting them for the season as well:
1) Matching Boots With Your Knitting: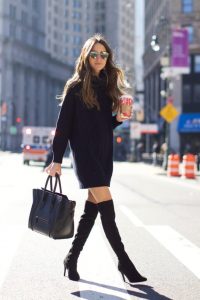 Source:justthedesign.com
Also Read:  Autumn Fashion 2018: The Season Of Vibrant Color Style
Here the style is simple yet trending at the same time and here in this trend the matching game is on and here you would see that the color of the boots is exactly the color of the knit. Both knit, as well as boots, are in trend for the season and so you just have to get the knit as well as boots in matching color that's it. You can go with basic black colored knit as well as boots as they are the most statement style for sure or you can also get your hands on nude shades and also you can get different types of boots according to your preference but high boots look the best out of all.
2) Play Around With Orange: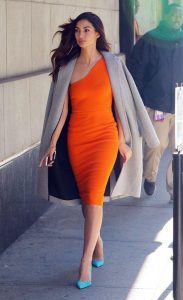 Source:ladmedia.fr
Well, autumn is the season of warm colors and orange seems to be in between of warm as well as bright color so this color proves to be one of the best colors that you can get for the season and if you would consider wearing this hot as well as vibrant color then you would be the highlight of the crowd and people would definitely notice you for sure. This is such a gorgeous color that it can be worn at the day as well as night time and at both the time it would make you look the best. Here you can get yourself different shades of orange according to your preference as well as occasion and also you can get different dresses in this color.
3) Roll Neck Blouses: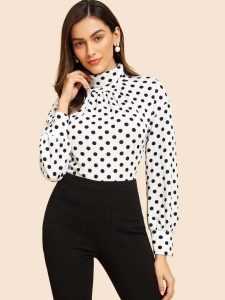 Source:shopify.com
These kinds of high roll high neck seems to be in trend and at the starting of autumn the atmosphere tends to be kind of cooler but not that much so at that point in time you may not want to go with a sweater or coat but still you would need some sort of protection from the cold weather so for those days you can go with roll high neck blouses or tops and this kind of top would keep your neck protected so you are less likely to make cold as well as cough during the season. You can pair them up with any of your denim or even with your basic trousers and they would look smart on you for sure and these kinds of clothes seem to be perfect for office going women.
4) Trainers As Well As Trouser Suits: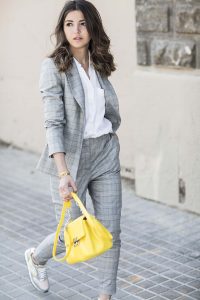 Source:pinimg.com
This seems to be trendy as well as formal wear and it is kind of casual as well because here you would be wearing your casual trainers with trouser suits and the combination seems to be smart as well as formal. You can carry this kind outfit in your office, get-togethers or in different occasions as well and the best thing about this outfit is that they can be worn in the day as well as in night time. you can get yourself a basic white trainer so that you can pair it up with almost every kind of trouser suits and also you cab=n here go with dark colored trouser suits as they look contrasting with each other.
5) Cardigans With Khaki Trousers: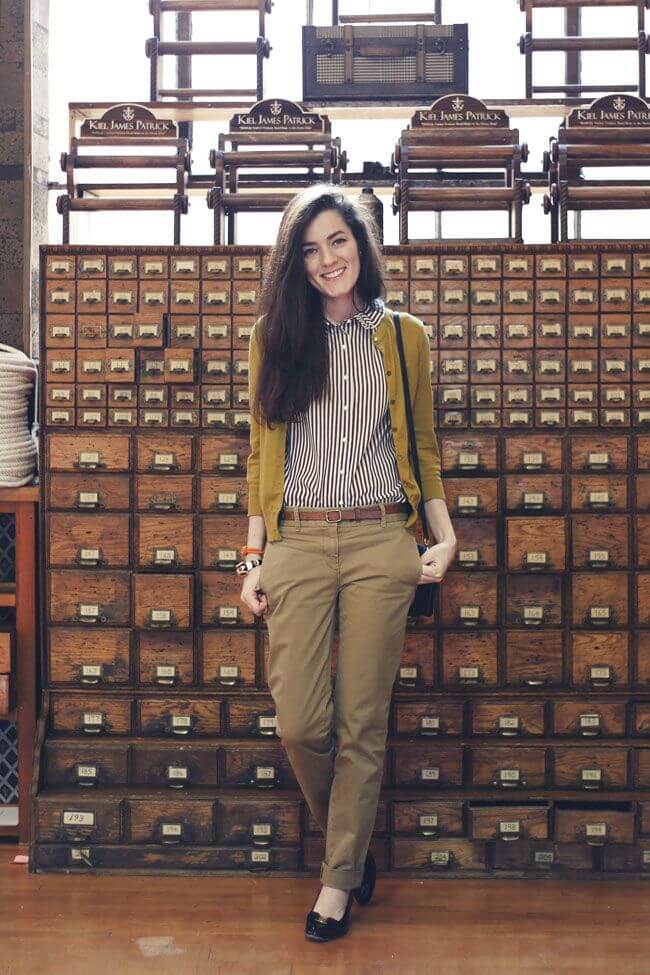 Source:pinimg.com
Cardigans make the look more casual and trending at the same time and they would be in trend throughout the autumn of the year 2019 so you can also get your hands on cardigans and here you can pair your cardigans with ultra stylish khaki pants and the color khaki seems to be one of the most trending colors these days and it is a kind of dark green shade which compliments every skin tone so you can also try these kinds of trousers up without being worried about your overall look. The pair together would make your look the best in this autumn and you would be in style all the time for sure.
6) Leather Dress Along With A Beautiful Sandal: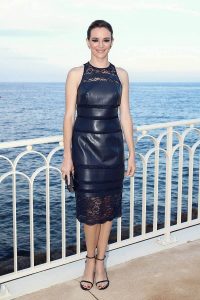 Source:pinimg.com
Leathers would keep you warmer than any other basic materials and by the end of the autumn season there would be kind of cold weather so you may want to wear something stylish but hot at the same time and if you are wondering about it then you can get your hands on leather one-piece dress as they are not only very fashionable but at kind of warm as well and they look gorgeous at the same time and you can simply pair these kinds of pretty dresses with elegant sandals and make sure to choose a gorgeous color that would match well with your dress and you are good to go for your even as well as occasion.
7) Basic High Neck Cardigan With Denim: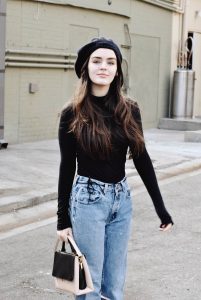 Source:tumblr.com
Here you would get your hands on the basic cardigan and a pair of denim and here you would have to tug the cardigan inside your denim and make the look sleek as well as smart at the same time and this kind of outfits looks good in both day as well as in night times an you can also pair the outfit with a basic woolen cap as it would make the look a bit cute and make sure to keep the cardigan of basic colors such as black, burgundy, brown and such kind of colors and also make sure to have the color of the woolen cap as well as cardigan matching.
8) Pink And Browns: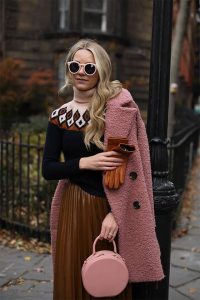 Source:pinimg.com
Pink, as well as browns, look very gorgeous together and in this autumn season, you would see the colors together as they seem to be a trending color combination that you can try out for sure. Here you can have the upper half in gorgeous pink shade and the lower half in earthy brown shade and together they would make your entire look gorgeous for sure. you can get pants and tops or even skirts and tops in this color combination and also you can get one piece dresses with the same color combination and look the best throughout the season. You can even try to get yourself some kind of pleated pink pants and pair it on with a basic brown top and with this, you would look unique as well.
9) High Boots With One Piece Dress:
Source:thestylecontour.com
This has to be the most stylish attire of the season and at the same time it is so gorgeous as well as simple and the best thing is that it would look good in almost everyone. This kind of outfits can wear in both days as well as in night time and this outfit would make you look smart in all the events. Here you just have to get your hands on high statement boots that would be of above the ankle length and also pair this up with a knee-length one-piece dress and you are good to go.
These were few of the best Autumn Fashion outfits that you need to check out and also you can get these for you and also you can find more such things at Fashionterest.