Warm weather is here for the season and with it comes the newest hottest Trends In Sandals. There's always a few new looks every season but sometimes it's hard to know how to wear everything in a way that makes sense. When it comes to Viakix Sandals it can be a bit of a challenge to know when they'll make an outfit look fabulous and when they just aren't working for you.
Fortunately, there are a lot of ways you can wear Viakix sandals and look amazing. Sometimes it only takes a few styling tips from the pros to get it all just right. If you're wondering how to wear different fashion looks with your Viakix sandals you're in the right spot. Stick around for a look at five different fashion styles you definitely need to try with your sandals.
1. Flirty Summer Dresses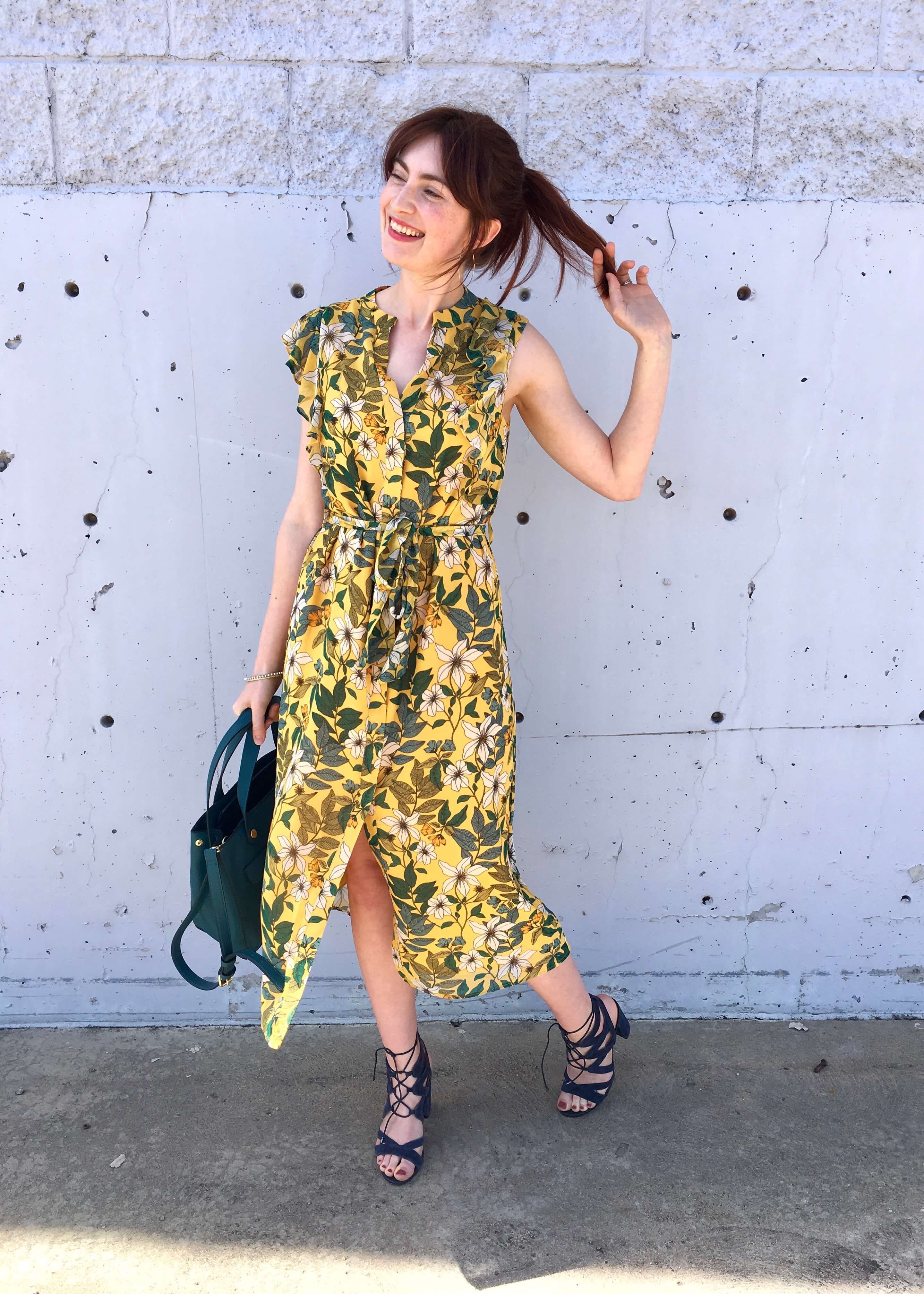 Source:thechicword.com
Also Read: Summer Sandals For Women's Walking Comfort
Dresses for the summer come in all kinds of options. You can wear a long maxi dress, a dress that cuts above the knee, or one somewhere in the middle and they're all going to look pretty amazing with your sandals. When it comes to pairing sandals with your dresses consider the hemline when choosing the type of sandal you'll wear.
While there are no hard and fast rules to wearing sandals with your dresses sometimes you can look more pulled together if you pair the right heel height with the right dress. With longer dresses try opting for a higher heeled sandal for a look that flows and makes your legs look amazing.
When you wear a shorter dress test out a flatter heeled look or even a pair of slide sandals. Sometimes with longer dresses slides and flat sandals just look a little less pulled together. It's all about personal preference so stick with what you love, but this style tip can give you some ideas on fun ways to test out this fashion look.
2. Cuffed Skinny Jeans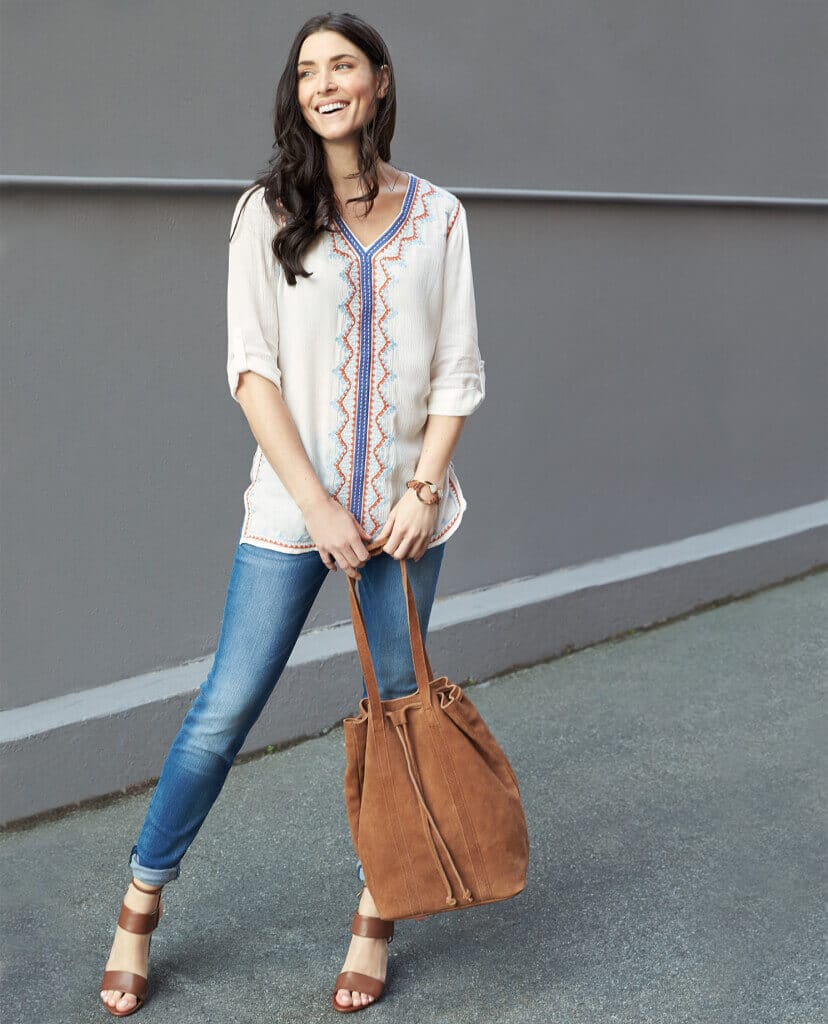 Source:stitchfix.com
This is a really great look to try out with your sandals. Turn up a two or three-inch cuff on the bottom of your favorite pair of Skinny Jeans to update them for a fresh warm-weather look. Then pair them with your favorite new sandals.
The great part about testing out this look is that you can try some of the newest trending sandal looks. Denim is a very neutral thing so you can pair the jeans with geometric prints or neon colors and really get into the more adventurous looks out there.
If skinny jeans aren't your favorite jean style you can try this same tip with a boyfriend cut denim look. The cuff will be a little less fitted to your body but you'll still be able to enjoy the same overall effect. Either way, you'll still be able to experiment with those sandal looks you love but may not be able to pair with other outfits you have.
3. A Monochromatic Office Look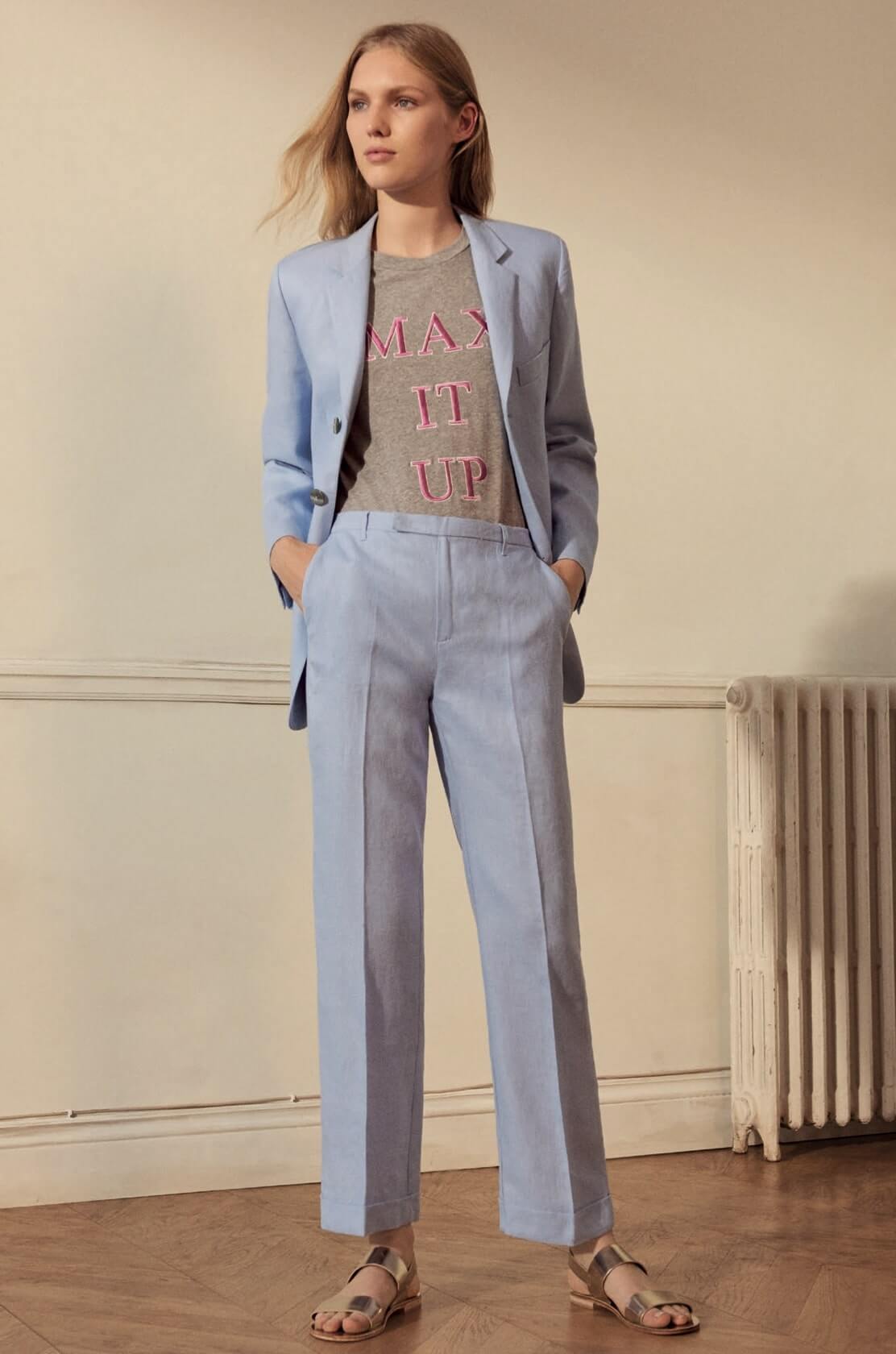 Source:pinimg.com
You can still look professional and manage to wear sandals at work. The key is to choose a pair of sandals that aren't flimsy looking. Go for a more expensive brand for a better look, and try to look for a pair of sandals that are a little more decorated instead of a very plain look. You want your office look to stay classy even if you're embracing a summer shoewear trend.
When it comes to styling the sandals with the perfect officewear look, you're in luck. Outfits that are all the same tone are very trendy right now and they're a great way to look pulled together and polished at the office. Choose a monochromatic look and a sandal that complements your outfit.
Earthy tones are a great way to embrace the monochrome trend and they'll look awesome with something like a black sandal that's embellished with some gold sequins or chains. If you follow these tips you'll have a great go-to look for a stuffy day at the office this summer.
4. A Blazer, A Dress, And A Strappy Sandal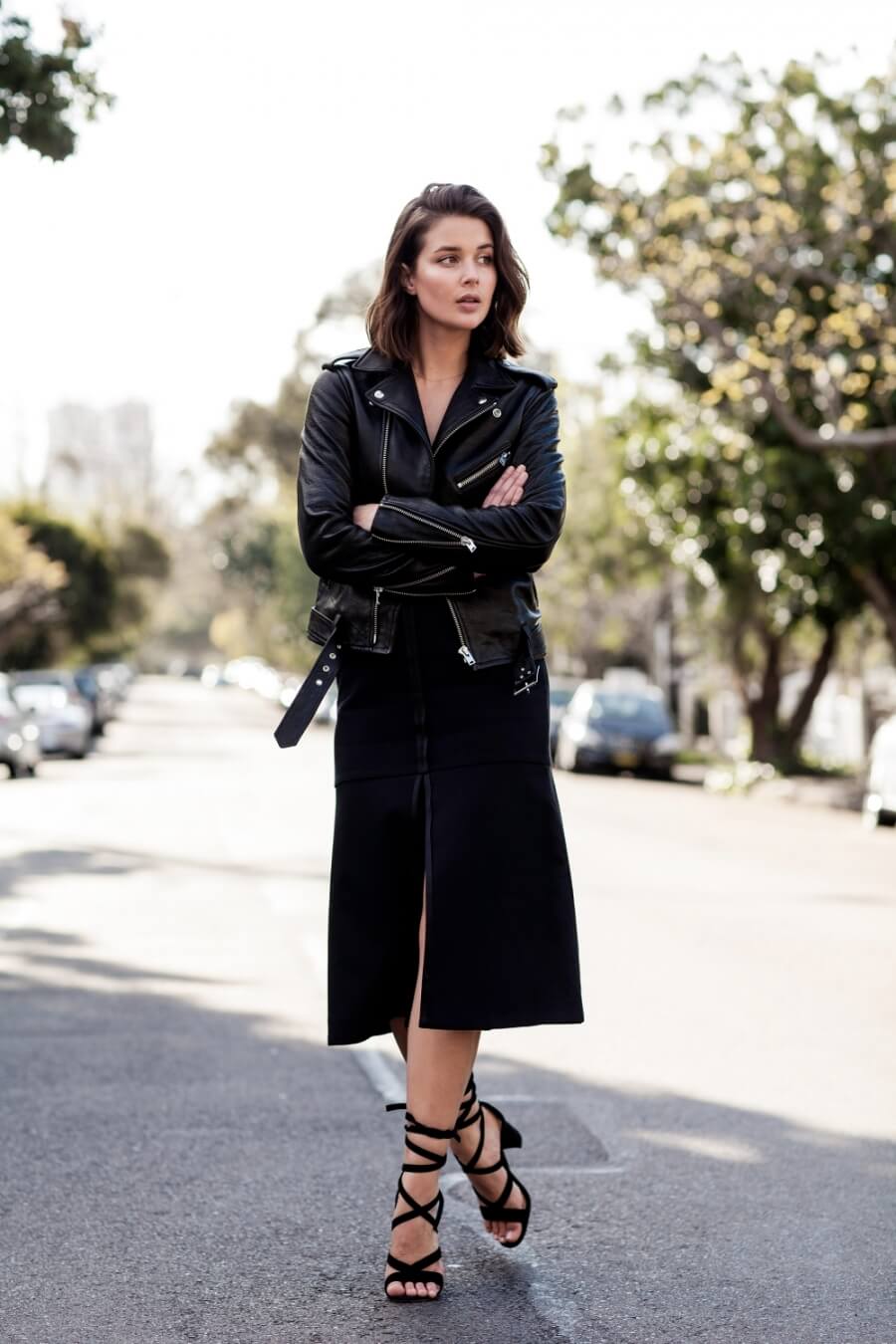 Source:justthedesign.com
This might sound like a lot of elements to have for one outfit but it can really work if you do it well. It can even be a great way to wear sandals to something like brunch with the girls on Sunday morning. To make this look work you'll need to go with a dress that's a little more billowy and a little less form fitting. You'll want to use the blazer to add shape to the outfit.
With a flowy dress and a blazer layered on top to give it some form without being too restrictive, you can add a great strappy sandal to finish off the look. Strappy sandals are a hot way to embrace some of the more minimalist looks that are popular right now. Opt for a strappy sandal in a color that adds a little bit of pop without being overwhelming to the outfit itself.
You might have to try a few different combinations before you find your favorite look with this tip but it will be worth it. Once you figure out what you love, you'll have an outfit you can slip on quickly and look amazing in all summer.
5. A T-Shirt Dress And Birkenstocks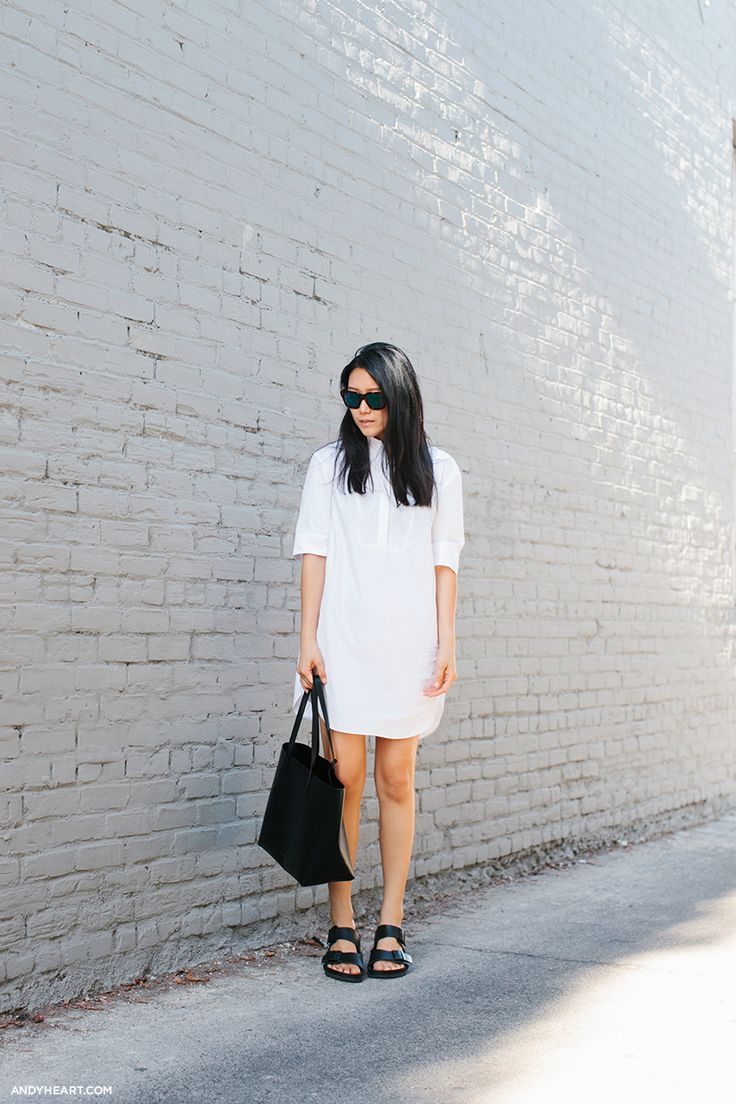 Source:glamradar.com
Everyone loves a comfy pair of Birkenstock sandals so if you're looking for a way you can wear them and still look great this is a good option. T-shirt dresses are already a comfy look that still has a little extra style, so adding a pair of Birkenstocks to that look is a natural way to wear them.
You can choose to wear a pair that are more dressed up (like a metallic finish) if you want to go with comfort but still look a little more on the fashionable side of things. Try giving the t-shirt dress a little more shape by tying a shirt around your waist for a great "I'm just relaxing today" sort of look. The sandals will just tie everything together and you'll have an outfit ready for a day of shopping or exploring the town.
These are just a few ways you can wear your sandals and feel like you look amazing at the same time. You might not love every style mentioned here but you're sure to look great and adore at least one or two of them. Test out what you think works for your personal signature style and go from there.
After you find what works for you take your new look out of the house. Show it off at the mall or on your next date night. Your confidence will show when you love what you're wearing and everyone around you will take note. Enjoy your new look.