The wedding season is around and maybe your wedding too. A wedding isn't just an event where people gather to watch two people getting hitched forever. It is an emotion expressed in the form of an event. A wedding is proof that true and pure love still exists. The most excited as well as a nervous person in the entire marriage is the BRIDE. Not to forget, she is also the center of attraction of the event.
This year's bridal fashion week was bound to be exciting with the fantastic Wedding Gowns design by the world-famous designers. Indeed they left an awe-inspiring reaction on everyone's face. 
As a bride, you would also want to follow the latest trend and amaze your love of life by your looks. Not only your partner, but everyone else will also be stunned by your appearance. To help you out in designing or selecting your wedding gown we have listed down the 2020 Wedding Trends for a gown with the little bit of briefing about the style and color (so that you can understand well!).
We won't let you waste a second to decide the wedding gown design that you will love. So let's move straight to the styles and other details defined by the designers.
Also Read: How Newlywed Brides Should Style Themselves For Family Events?
The '70s Flair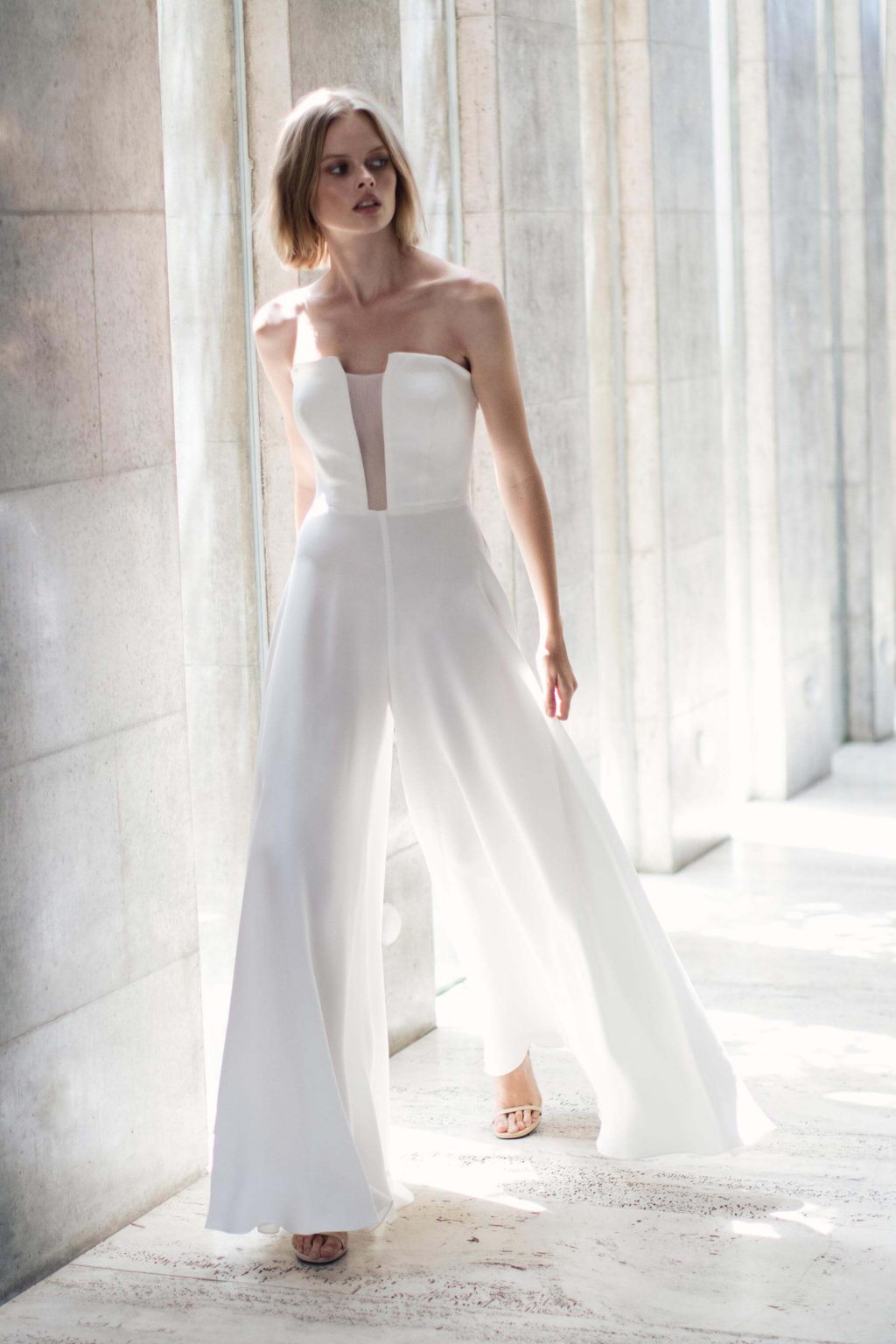 Source: thelane.com
Famous designers like Oscar de la Ranta, Viktor & Rolf, Galvan, and Naeem Khan recreated the '70s designs and brought them back in trend. From blouson dress to jumpsuits with a Variety of Design '70s s back in the pattern. The fringe fashion is now outdated, and boho bride will rule. Boho look will help you in putting upfront.
Capes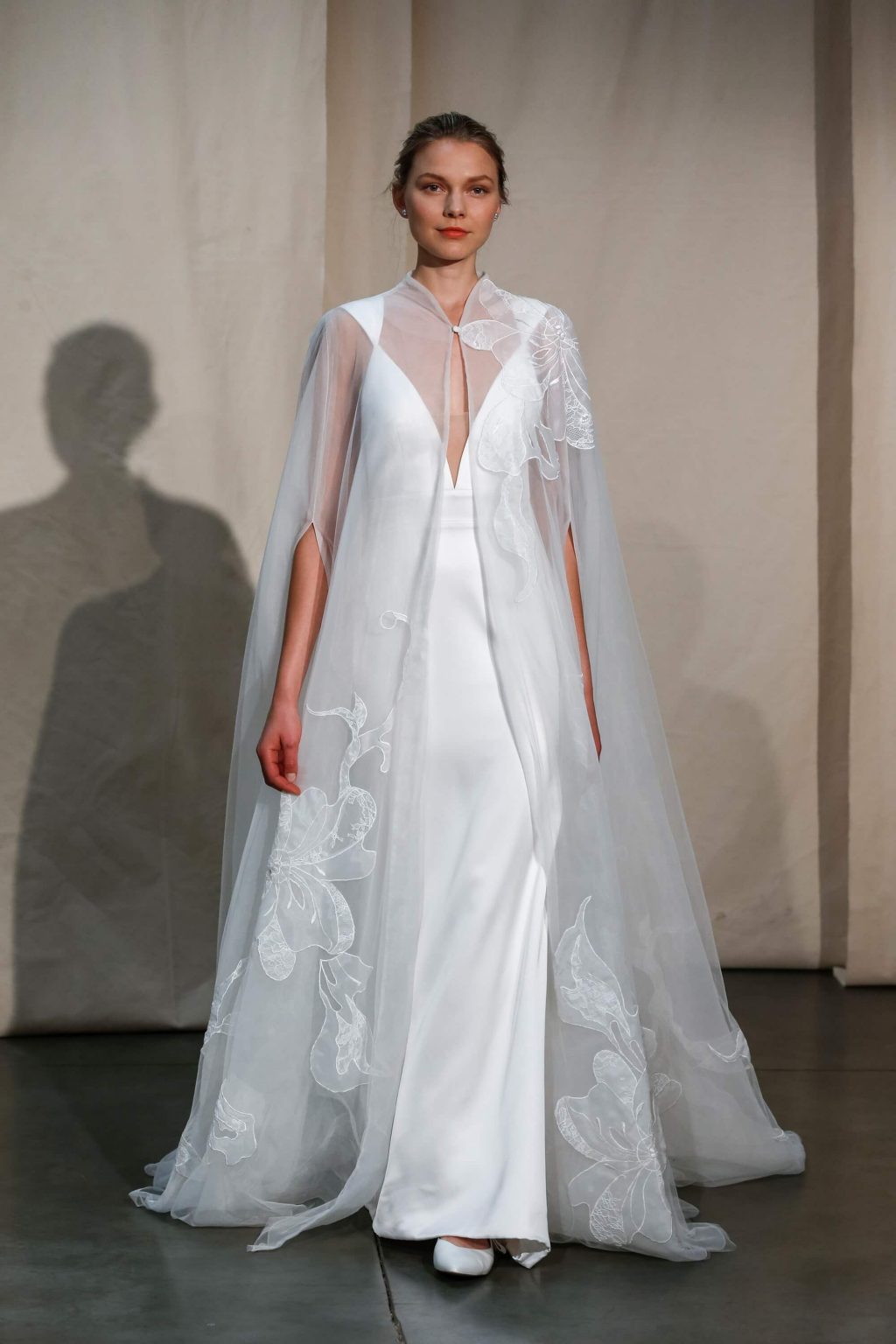 Source: brides.com
Instead of veils yo can opt for capes this year while walking down the aisle to meet your man. Designers like Carolina Herrera, Anne Barge, Marchesa, and Monique Lhuillier presented capes attached to the sleeves, at the back of the jumpsuit, and as a mock-neck cape. Add a dramatic look to your wedding gown by adding a sheer cape to it and feel a fairytale wedding on your own.
Greens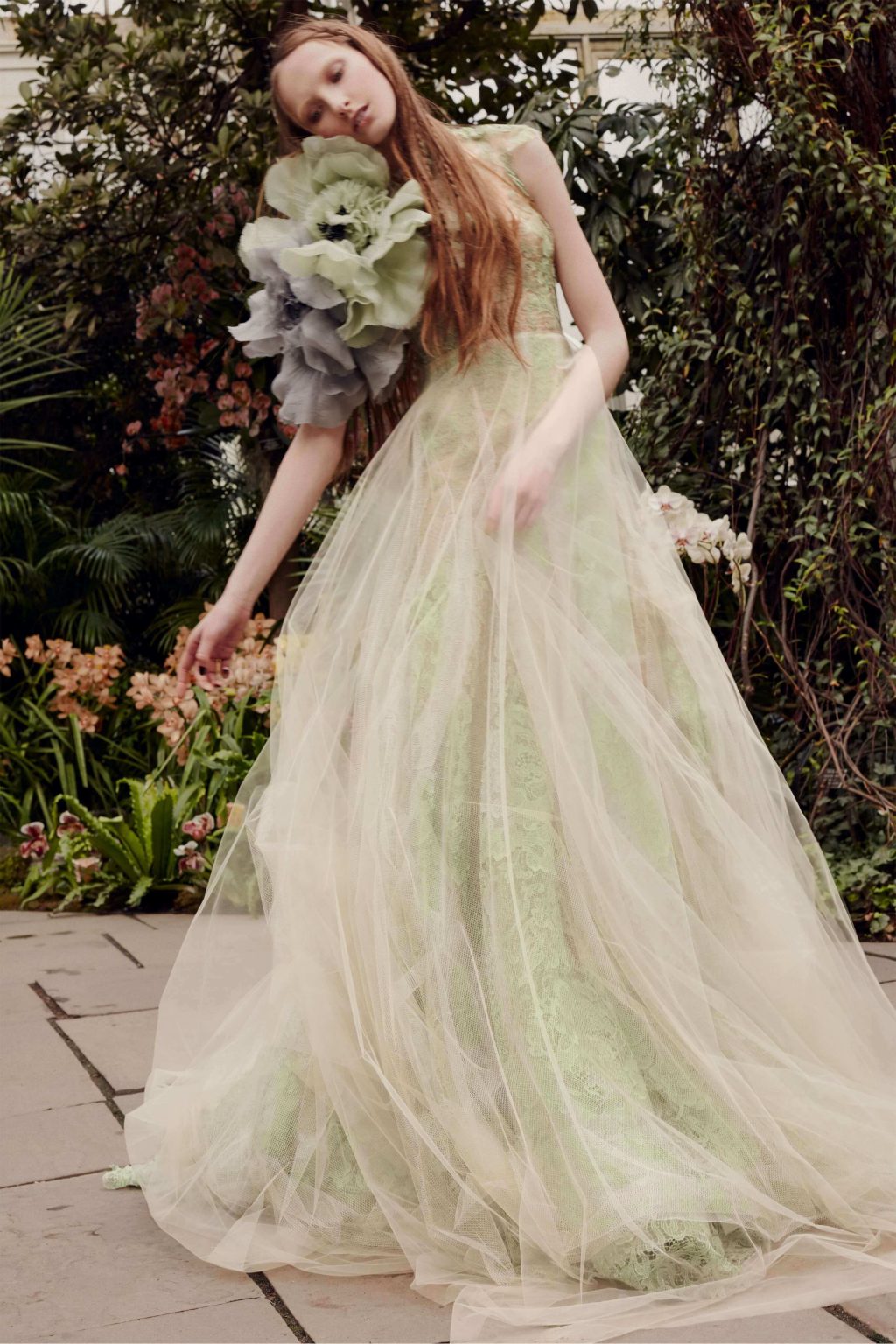 Source: officiel-online.com
This year except for blush color there are two more colors in trend for bridal wear. One is green as for another color you will have to wait till the 11th point arrives (you won't regret waiting). Bridal designers this year have attractively highlighted the shades of green. Either as the gown color or the embellishment done on the gown was done using green thread. So get your bridal gown designed using green as a base color or a secondary color.
Trains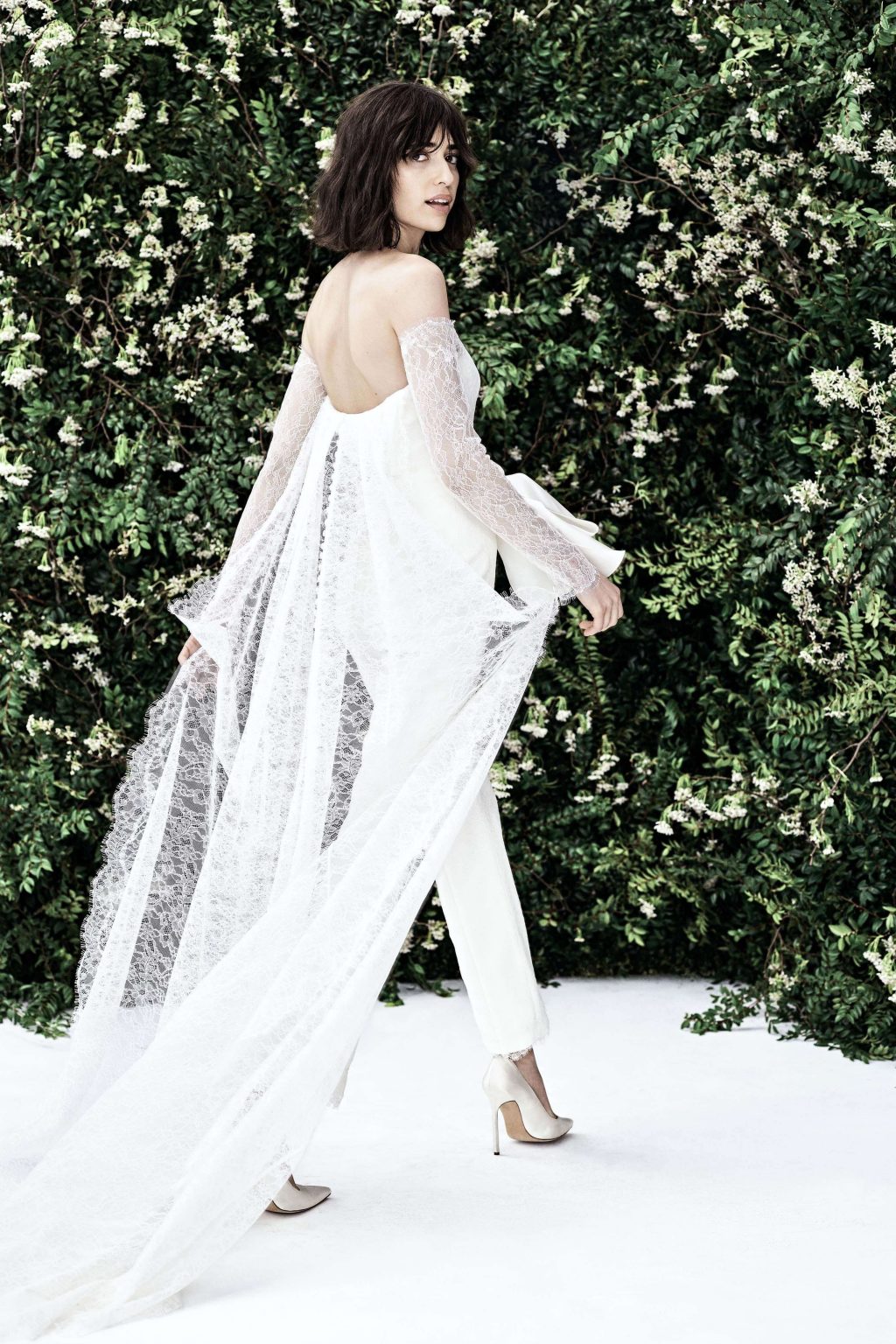 Source: pinimg.com
Great designers again surprised everyone by introducing separates with trains. Till now you would have seen trains attached at the back of gowns but designers this year attached them at the end of separates. With this train attached get ready to skip the dress as your bridal attire. This attire is totally worthy of risk-taking.
Feathers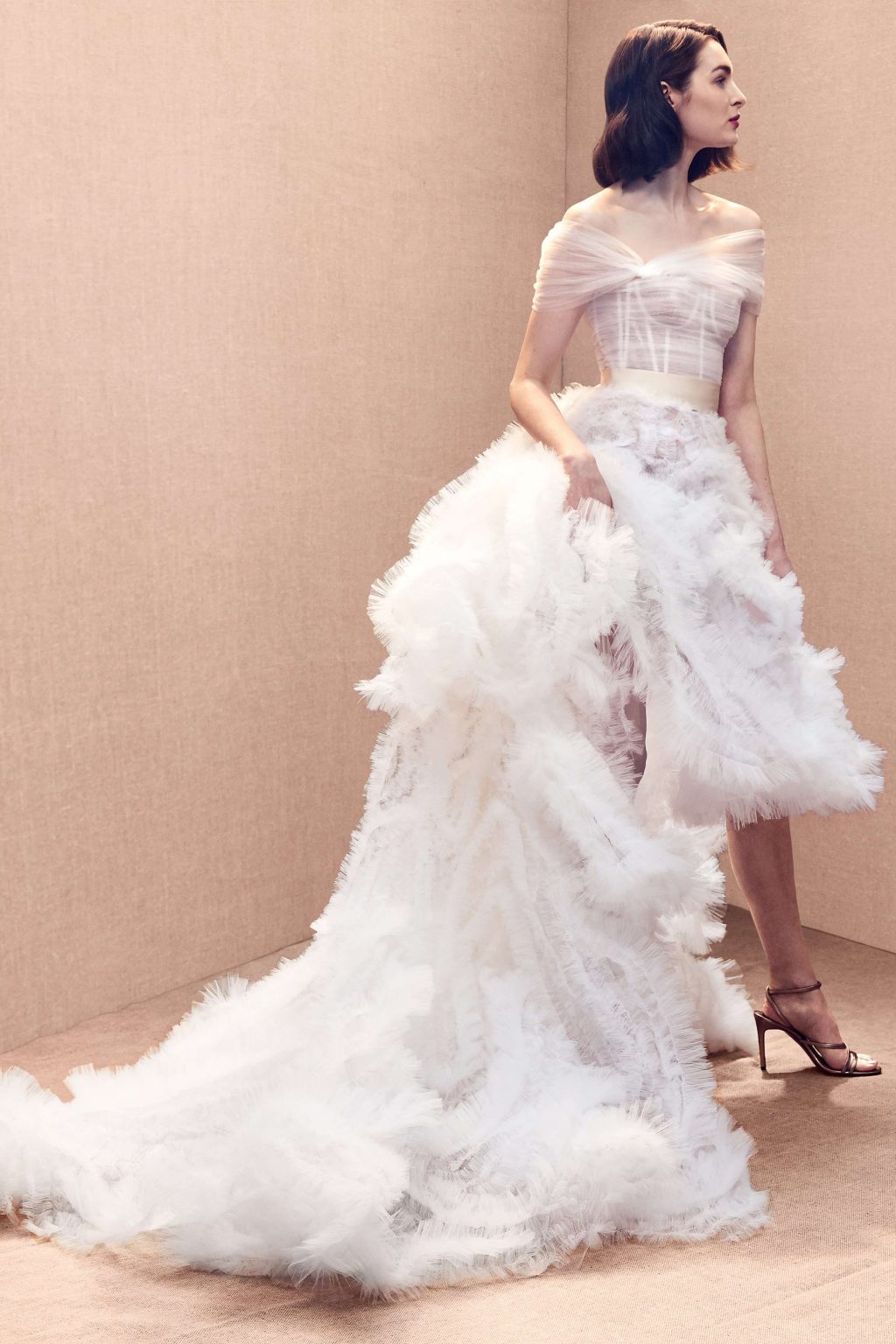 Source: balharbourshops.com
Feathers were the favorite element among the designers like Naeem Khan, Mira Zwillinger, Zuhair Murad, and Oscar de la Renta, mini dresses to ball gowns every style was shown with the feathers. These light-weighted feathers add glamour to the outfit. Let us inform you that feathers add a look to the gown or dress with the proper placement only.
Halter Neckline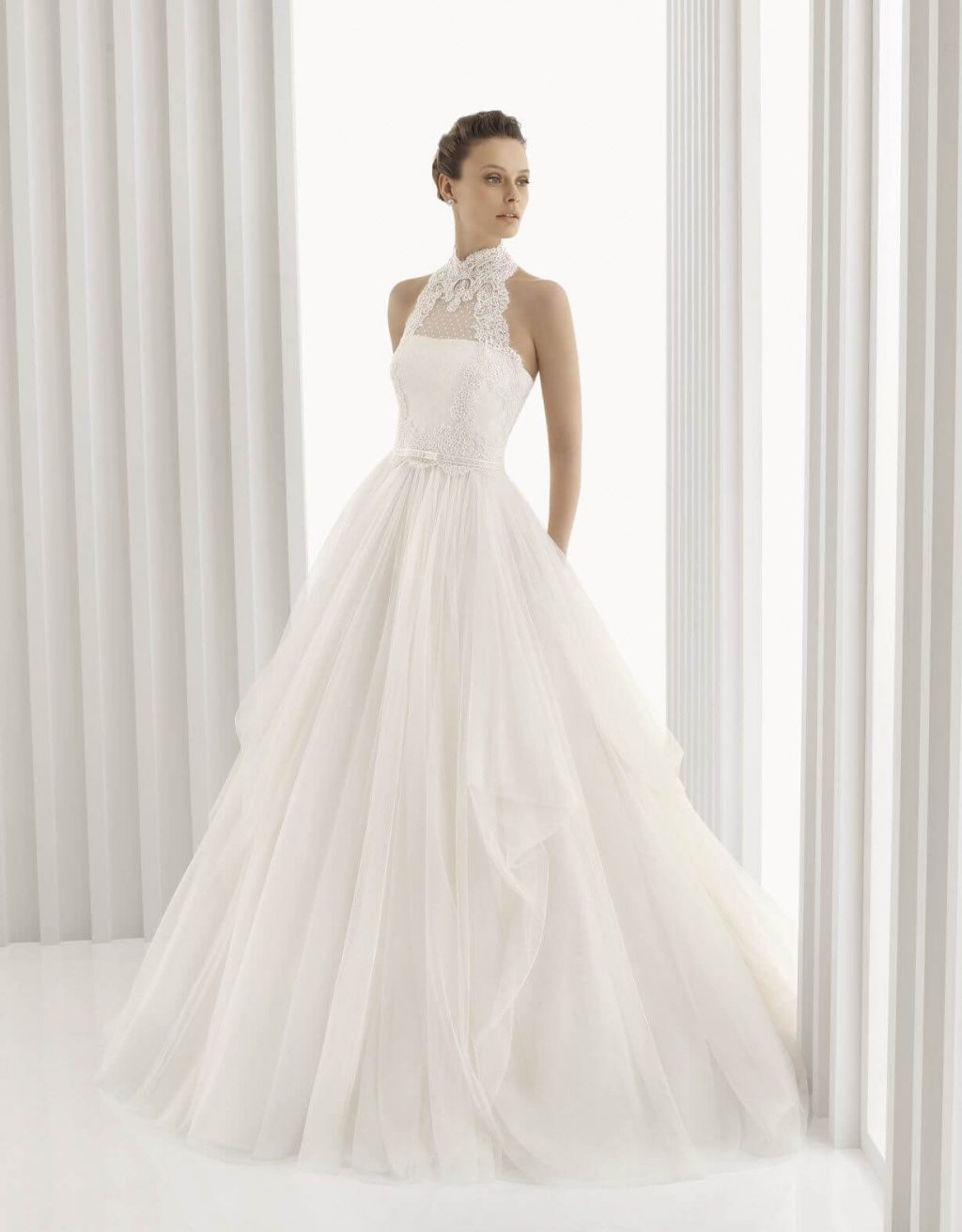 Source: tonypaullconsulting.com
These forever love neckline that not only shows off your toned arms but also makes you feel like a princess. This neckline was seen many times in the Spring 2020 Bridal Wear showcase. This neckline is a fashion-forward style that everyone would love to adopt.
Point D'esprit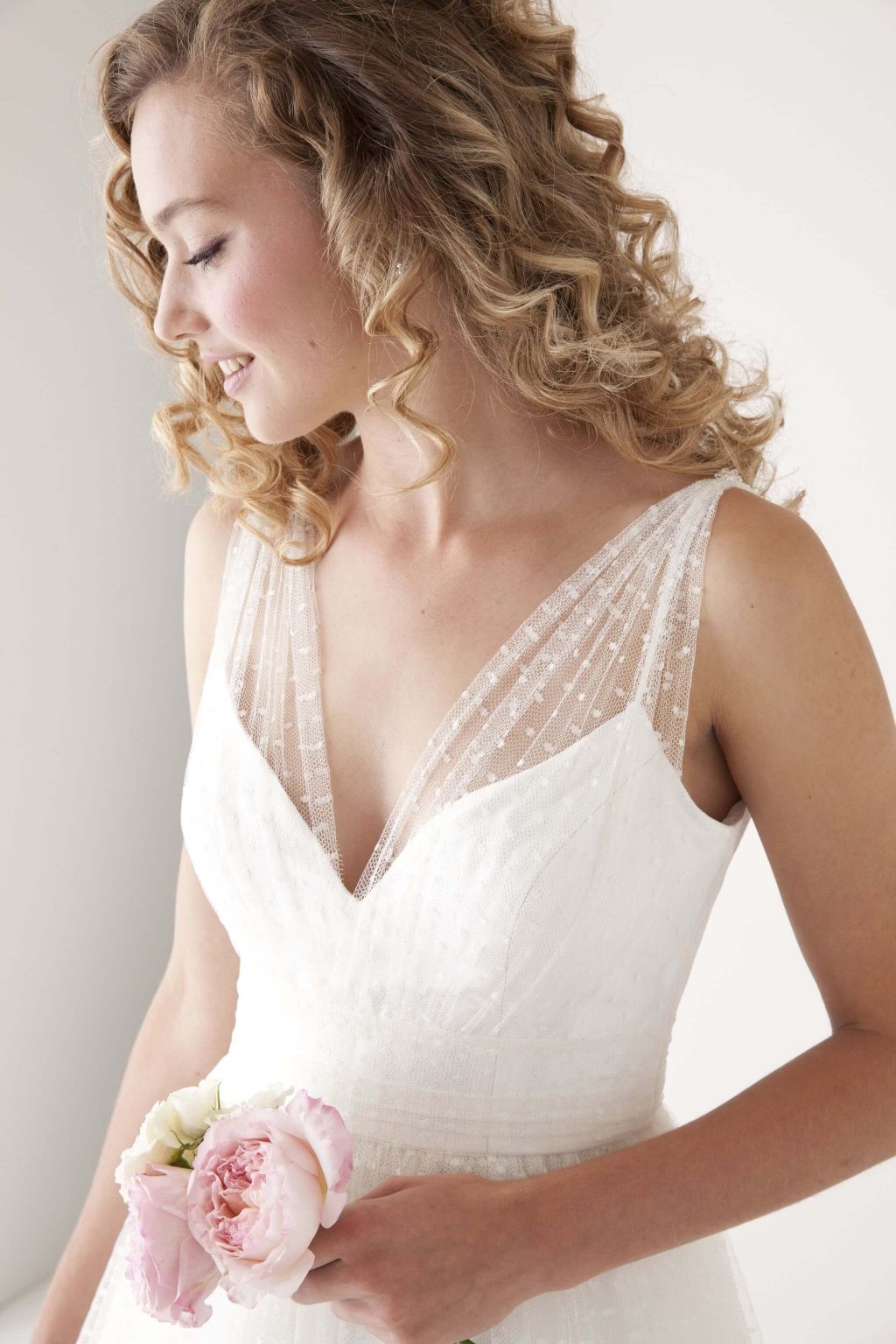 Source: pinimg.com
What is Point D'esprit? You will be probably knowing this! The swiss dot sheer fabric used in the making of wedding gown. They are back again in vogue. It isn't necessary to use it in a whole dress; you can style or drape it as you like. The amount of fabric used in a gown will decide its look. As for inspiration, you can check out the gown in the picture above.
Ruffles & Puffles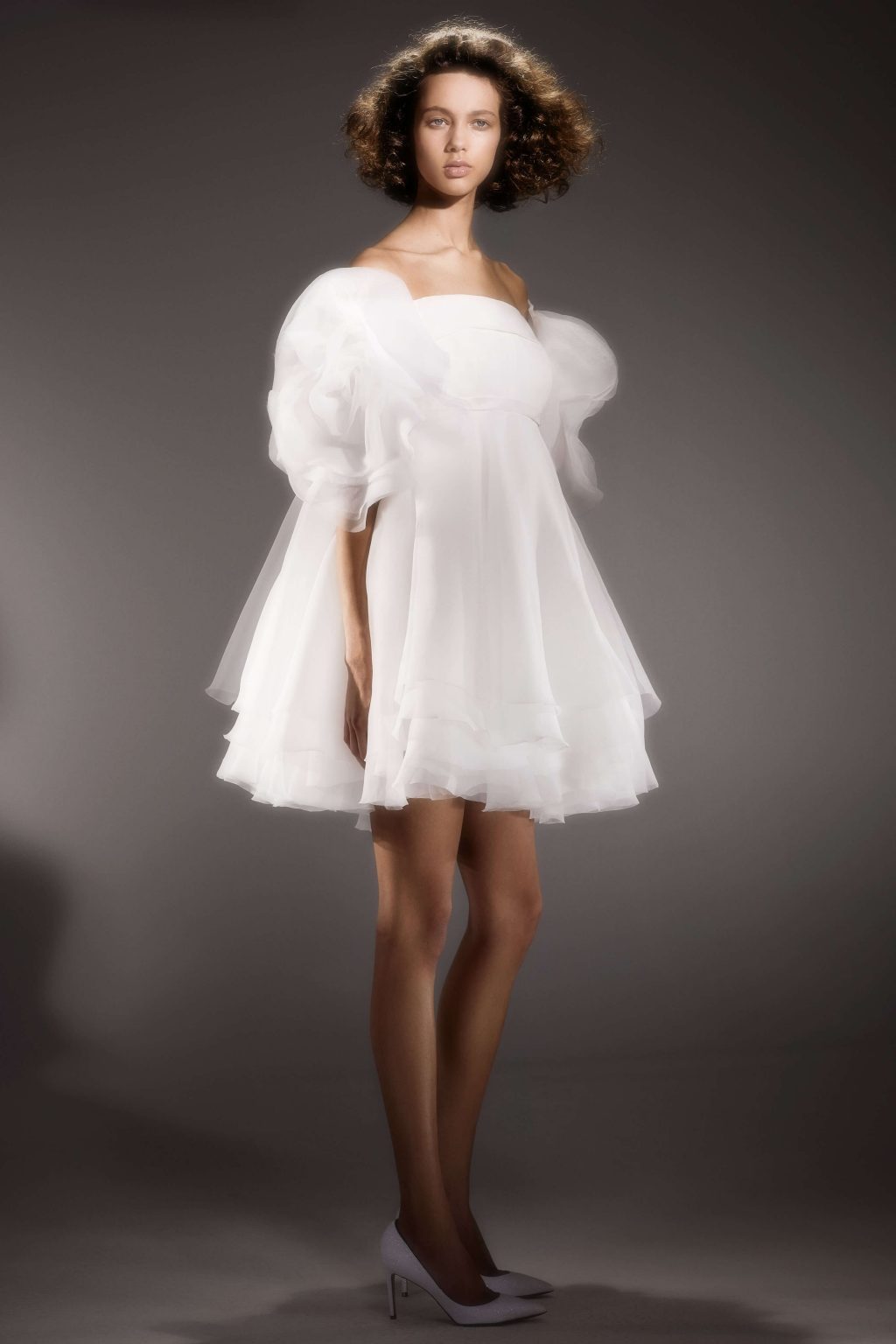 Source: brides.com
Volumed skirts or gowns got a bad rep in the fashion industry, but we guess designers decided to break that myth. In this spring 2020 bridal collection designers have not only added volume to sleeves but also skirts and gowns, by this, they showed that sometimes bigger is better. So add a Ruffle-Puffle to your design list.
High-Low Cut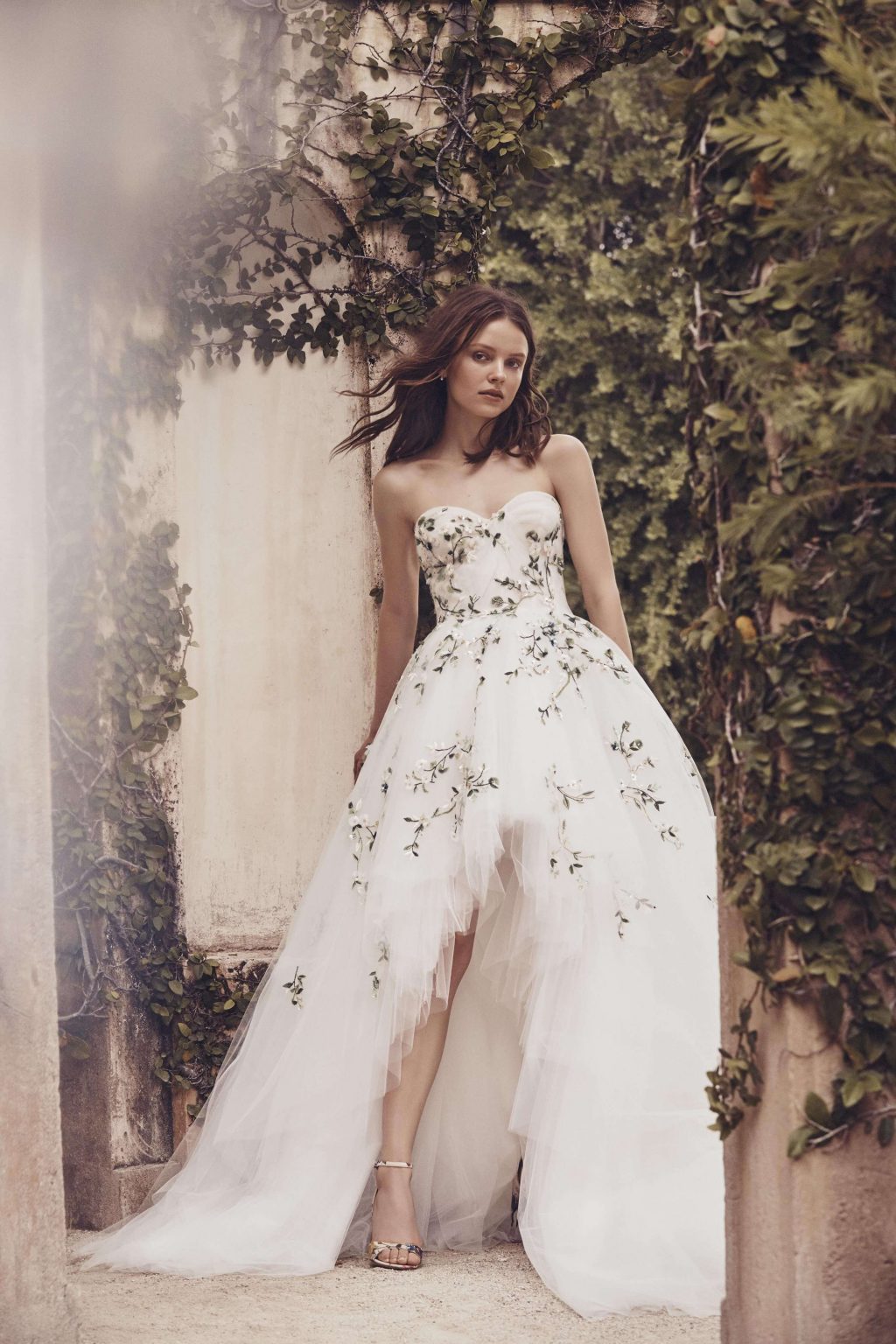 Source: vogue.com
High-low cut was introduced in the industry a few years ago and from that time to till now, it hasn't disappointed anyone. But this cut made an appearance on the wedding wear really it did look amazingly awesome. Designers like Oscar de la Renta, Monique Lhuillier, Danielle Frankel, and Carolina Herrera represented the high-low cut wedding gowns with the unique and jaw-dropping styling. We also noticed one thing that this style needs a perfect and elegant pair of footwear that can escalate the look.
Scallop Neckline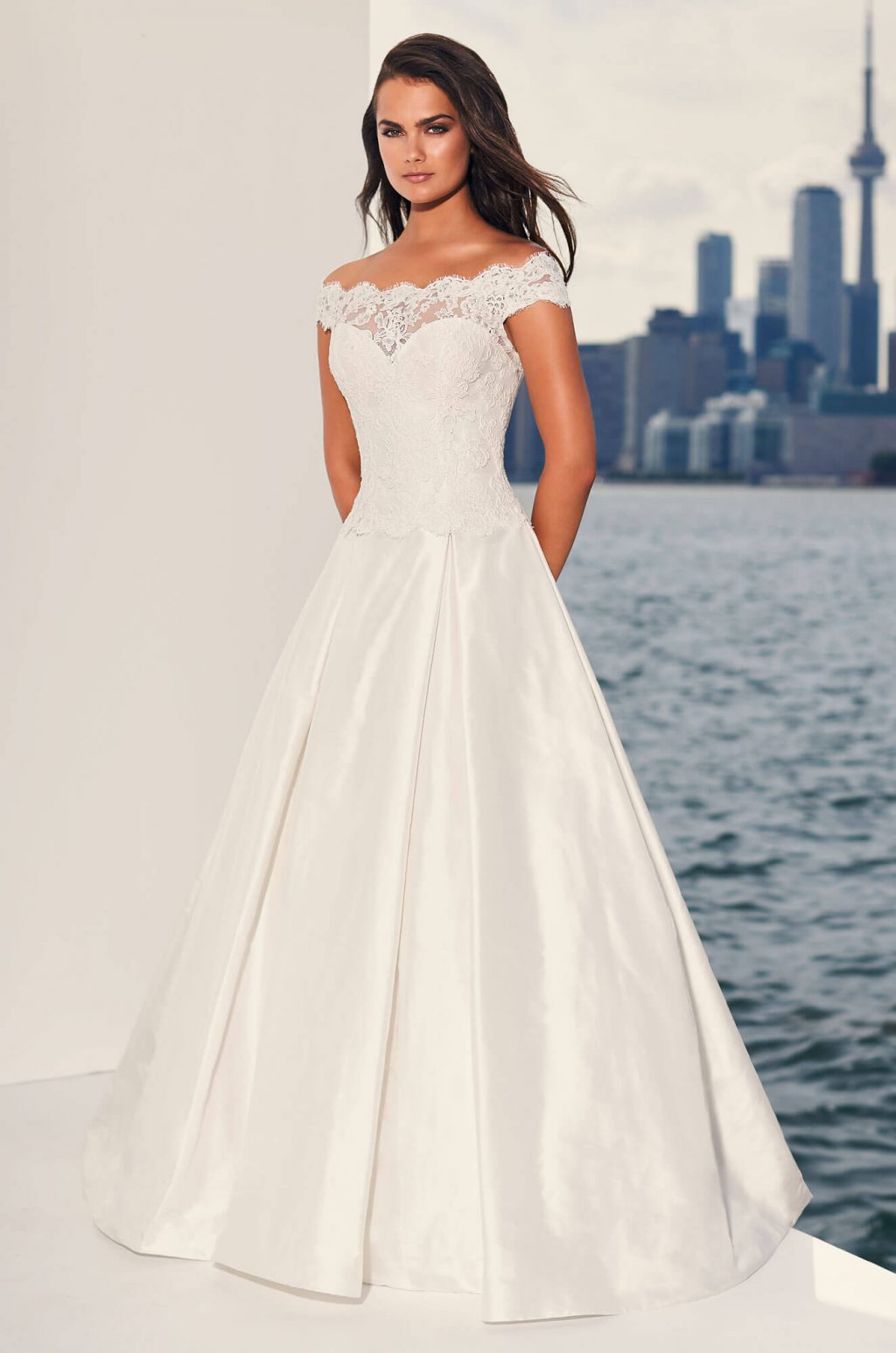 Source: palomablanca.com
Have you noticed one thing that all the retro styles are getting back in trend, not only in casual wear but also in wedding and party wear? Scallop neckline is another style that has made a comeback with the help of designers Reem Acra, Oscar de la Renta, and Costarellos in spring 2020 bridal wear. No matter what neckline you opt for, give a scallop finish to it and see how many heads turn you get.
Ginger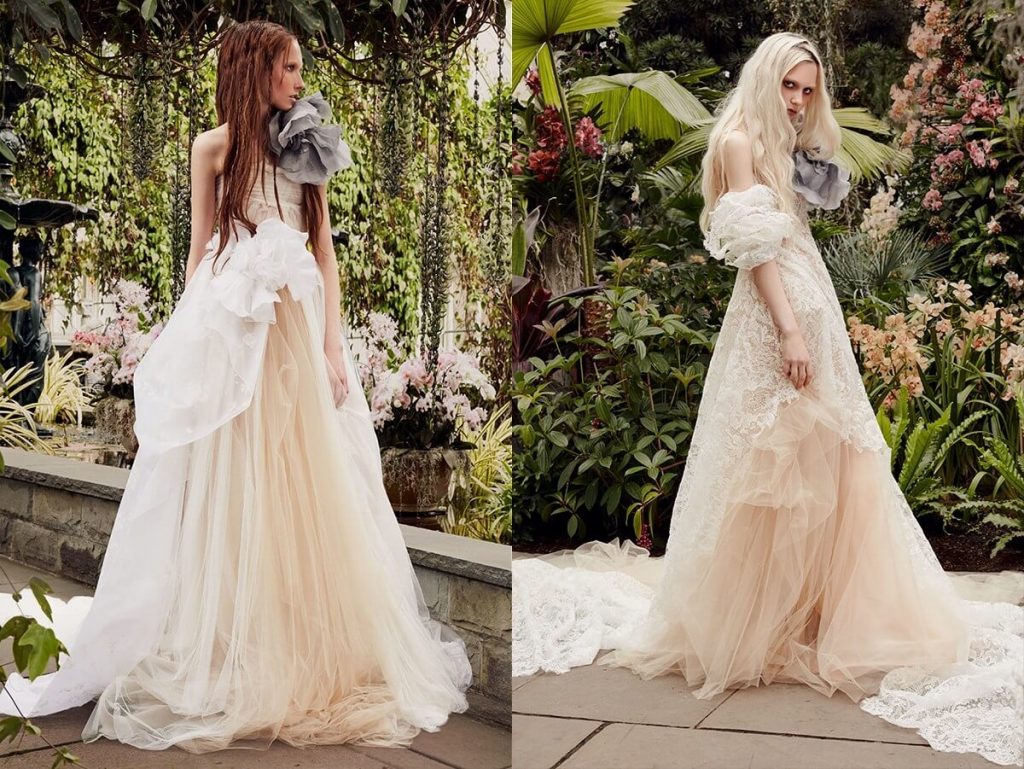 Source: wp.com
Here ends your wait! The other color, apart from green, is ginger that was presented by the designers at the 2020 bridal wear showcase. This is the safe color you can play with. This is a neutral color that can be paired with a silver, gold, blush, or even bolder tones; it will look alluring. If you think traditional ivory colors aren't your style, go for this one.
Bridal in Suits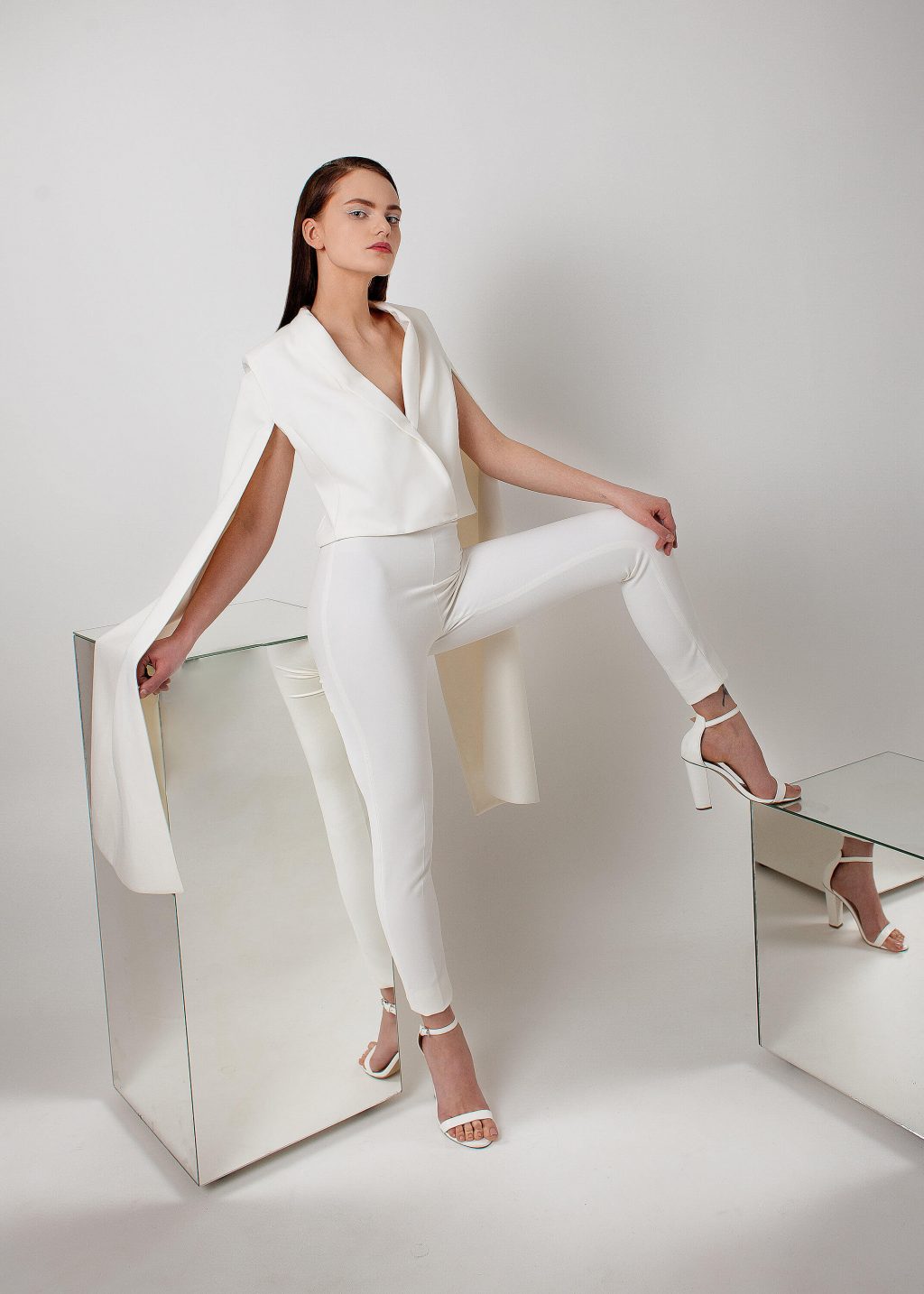 Source: etsystatic.com
Suits are no longer new to the wedding wear colony, they already have been introduced long ago, but there is a saying 'Change is necessary for the growth' it seems that designers considered this thing seriously for the suiting industry. In spring 2020 bridal trends, suits had a variety of sleeveless jackets, sheer cape sleeves or jacket that can turn into a mini dress. 
Lacey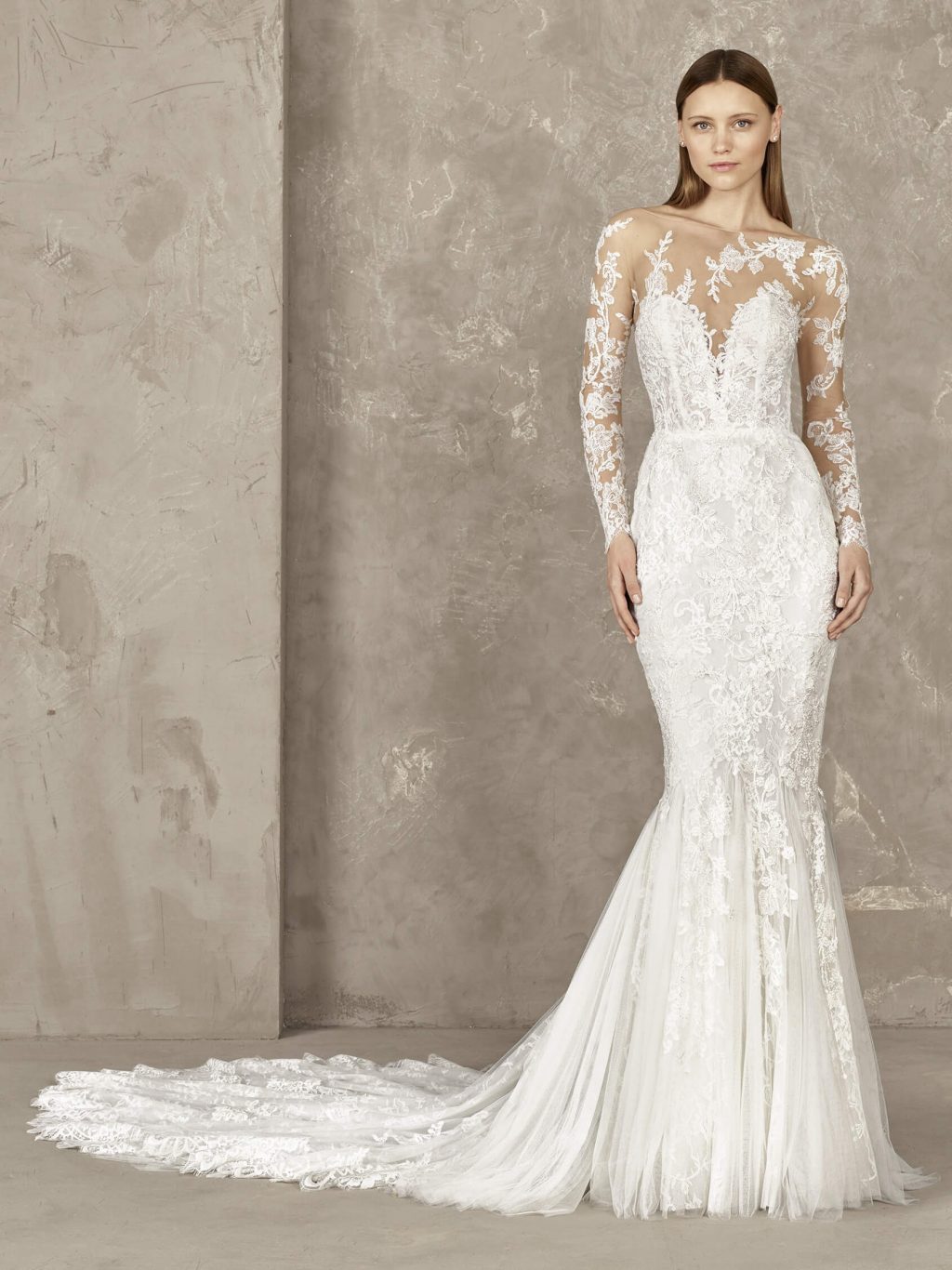 Source: pronovias.com
The tattooed lace fabric or embroidery on tulle fabric was introduced again. These embroidered sheer fabric gowns appeared as the spring 2020 bridal collection in both traditional and sexy silhouettes. 
Here are some Latest Jewelry Trends 2019 that you can follow.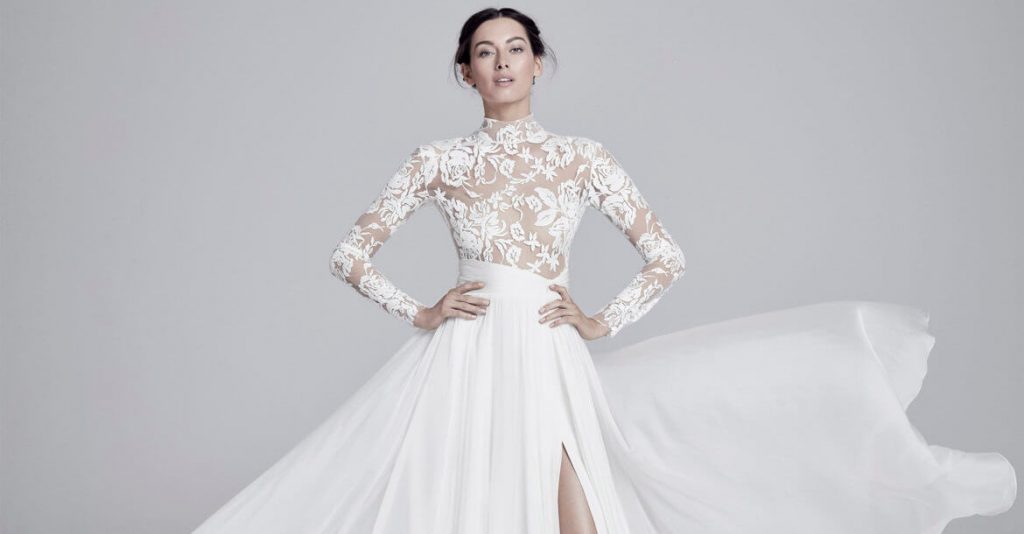 Source: kadinlarkulubu.com
These were the trends for Wedding Gowns that every bride-to-be follows for the mesmerizing wedding gown designing. For more ideas related to fashion, visit Fashionterest.